Do you know what is Rosemary? How it may help with stress relief? Are you looking for the best Rosemary supplement for yourself?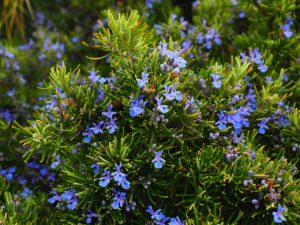 Stress is something we all suffer from, and I know for an experience that everybody is trying to do everything in their power to reduce it, relieve it and be at peace once again. Stress is everywhere and every day. Each step we take can cause stress and sometimes seems that there is no escape. But there is always something you can do.
Today I talk about some special herb, some supplement that can be used to make you feel better, healthier, happier and less stressed. Of course, it's not for everybody, but if you can improve your health and well-being, why wouldn't you want to try and see it for yourself?
Is it for everybody? Can it help everybody? Of course, don't lie to yourself, because we all are different and different remedies, supplements impact us differently.
What is Rosemary?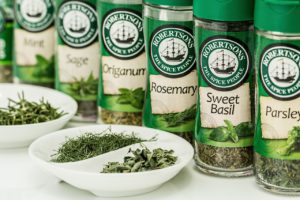 Rosmarinus Officinalis is a woody, perennial herb with evergreen, needle-like leaves and blue, purple, pink or white flowers.
Rosemary is a herb that is used in cooking as a spice and to make a medicine. It can help with digestion problems, loss of appetite, high or low blood pressure, headache, improving energy, mental tiredness, and other health issues.
There are many health issues where this amazing herb is used, for example, wound healing, skin condition (eczema), toothache, muscle and chest pains. Rosemary can be used in bath therapy (balneotherapy) and to repel insects.
Ancient people in Greece and Rome knew how special this herb is and used to treat many conditions. They used it as a calmative. Rosemary helped with memory and it has refreshing qualities.
Oil can be extracted from Rosemary leaf, and the oil can be used foods and make beverages. Rosemary oil is a great fragrant component in soaps and perfumes.
Rosemary For Stress and More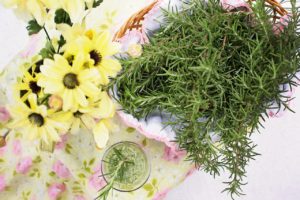 Rosemary is known as one of nature's most powerful antioxidants. It has a long-held reputation as a memory enhancer and studies showed that at least partly it's true.
According to research, Rosemary may improve a person's performance, concentration, accuracy, speed and, to some extent, their mood.
It seems that Rosemary is great for stress relief even if there is only insufficient evidence. Rosemary can help with many things, but here we will look only on the things that are closely related to stress and stress relief.
Some studies suggested that Rosemary and lavender oil therapy may reduce pulse rates. But one study showed that Rosemary oil increases feelings of anxiety and tension during testing, and that is strange because usually essential oils are great at stress reduction.
It may be also used to relieve headaches.
What is the best Rosemary Supplement?
1. Alvita Organic Rosemary Herbal Tea Bags, 24 Count
Best Place to Buy: CHECK IT OUT
Description: This herbal supplement contains an evergreen shrub that is native to the Mediterranean region. Rosemary traditionally is used as a calmative. This Rosemary tea is made from organic, premium-quality leaves and has a distinct flavor and aroma.
Ingredients: Organic Rosemary (leaves)
Pros:
Naturally caffeine free

Certified organic by QAI and gluten-free by NSF

Certified kosher
Cons:
The twin bags don't separate easily

A little bit too pricey
---
2. Rosemary Tincture – 100ml – (Quality Assured)
Best Place to Buy: CHECK IT OUT
Description: This Rosemary tincture (extraction rate: 1:3) is a great way to tap into benefits of this refreshing herb with a strong savory taste that is used to improve health in ancient times, especially it was used to aid the memory.
This tincture can be added to fruit juice or water.
Before undergoing a process of cold percolation, leaves are dried in shade. The technique that is used is faster and more efficient than maceration and the precious plant materials aren't wasted.
Ingredients: Rosemary, ethanol (alcohol volume: 45 %) and water extract
Pros:
It is packaged in a pharmacopeial grade brown glass bottle with dropper
Cons:
---
3. Rosemary 500mg 90 Capsules (V) | Memory, Focus, Learning | 100% Natural Vegan NOOTROPIC | Free UK Delivery
Best Place to Buy: CHECK IT OUT
Description: This Rosemary supplement is manufactured and packed in the United Kingdom according to GMP standards.
Ingredients: Rosemary Leaf Extract 5:1, Rosemary Leaf Powder, Vegetable HPMC capsule
Pros:
Suitable for Vegetarians and Vegans

Free from Gluten, Wheat, Dairy, Yeast, Nuts, Soy, and Shellfish

Doesn't contain Artificial Flavors, Colors and Preservatives

Free delivery in the United Kingdom

Letterbox friendly packaging

Manufactured according to GMP standards

Doesn't contain excipients
Cons:
One customer complained that she didn't see any difference.
---
4. JustIngredients Essentials Organic Rosemary 1 kg, Pack of 2
Best Place to Buy: CHECK IT OUT
Description: This Rosemary supplement is organic that has been certified but the Soil Association. JustIngredients use only good quality, natural ingredients that are responsibly sourced without any additives (except anti-caking agent when is essential).
You can use this product for home use, cooking, catering, re-sale, and it's really great for your health.
Ingredients: Dried Rosemary
Pros:
Certified Organic by the Soil Association

A trusted, BRC accredited

This product is non-irradiated and GMO-free

The ingredients are responsibly sourced

Ideal for different uses

Professional and durable packaging

Free from additives
Cons:
Couldn't find any complaints
---
5. Swanson Superior Herbs Rosemary Extract (500mg, 60 Capsules)
Best Place to Buy: CHECK IT OUT
Description: This is Rosemary extract is standardized to by 6 % rosmarinic acid, and it can protect your body's vital tissues from harmful free radicals. This supplement contains one of nature's most powerful antioxidants that has an uplifting effect on mood which can help if you are stressed. Each capsule contains 500 mg of rosemary leaf extract.
Ingredients: Rosemary extract (leaf) 500 mg, Gelatin, may contain Magnesium Stearate or Silica
Pros:
Provides powerful antioxidant support and has an uplifting effect on mood
Cons:
Isn't suitable for Vegetarians and Vegans

Contains Magnesium Stearate or Silica
Final Thoughts
Rosemary is used as a culinary herb or as a fragrance in cosmetics. Traditionally Rosemary is used as a calmative so why wouldn't you want to try this powerful herb for yourself? Do you want to see it? Do you want to experience the benefits?
Either way, it may not help you, because we all are different and there isn't enough scientific research to prove the benefits of Rosemary in treating stress or any other condition.
What is Rosemary? What do you think about these supplements? Did you use them before? Let me know below!
---
If you are looking for the best Rosemary supplements, CLICK HERE for more information.
---
Thank you! Until next time!
Linda Mo
Founder of How To Reduce Stress Naturally