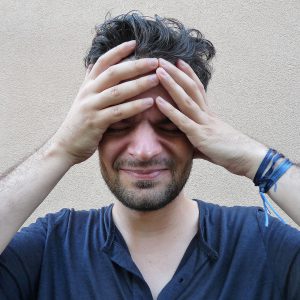 Hi, friend! How are you feeling? Are you suffering from stress? Do you want to know how to reduce cortisol levels naturally? If that's the case, you are at the right place. Let's begin!
Why Do You Want To Reduce It?
Cortisol can help you to deal with stressful situations. But many of us experience high levels of cortisol for long periods of time, and it's draining all your energy. In fact, high cortisol levels can even make you sick, cause weight gain and high blood pressure. So, of course, you need to reduce cortisol if you want to be healthy and happy. Who doesn't want that?
So How To Reduce Cortisol Levels Naturally?
Everybody wants to know it. Everybody needs to know it. A feeling of always stressed doesn't need to be in your life. You can choose to change it right now. Of course, it is not so easy. But you need to try to take this life less seriously and enjoy everyday miracles.
So I am happy to introduce you these five amazing and easy ways to reduce cortisol and smile more every day.
1. Getting Enough Sleep
Quality of sleep and length influence cortisol. It's important that you sleep at night and not during the day. In that way, cortisol decreases and you feel less stressed and calm.
If you want to keep cortisol in a normal rhythm, get seven or eight hours of sleep daily and avoid interruptions.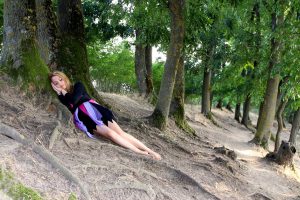 2. Exercise
I believe we all know that exercise can help with stress reduction. But it's interesting that this depends on the intensity of exercise. Did you know that? Exercise can increase or decrease cortisol.
After intense exercise, cortisol levels are increased, but that is for the short term. Later cortisol levels decrease, and it's usually happening at night.
3. Become More Self Aware
This awesome way to reduce stress because in this way you acknowledge yourself and your inner power. A mind is a powerful tool that can help you to heal physically and emotionally.
What does it mean to become more self-aware? It involves becoming more aware of stress-provoking thoughts and replacing your worry with a focus on understanding your emotions and thoughts that make you stressful.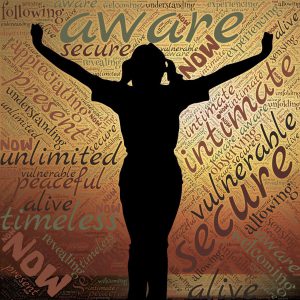 You need to train yourself to be aware of your thoughts, emotions, breathing. It's important to recognize signs of tension that shows when stress begins. You become an objective observer of your stressful thoughts by focusing on your mental and physical state. You don't need to feel like a victim of them, and you are something much more than you are lead to believe. You are an amazing being. If you accept it, you will live a happier life and stress slowly becomes like a distant dream from a past that is not your reality anymore.
You reduce your cortisol levels by understanding your stressful thoughts and emotions. In this way, you learn to cope with stress more successfully.
Meditation also can help you to understand yourself better and deal with stress. Reduce cortisol levels naturally by being your best self! 🙂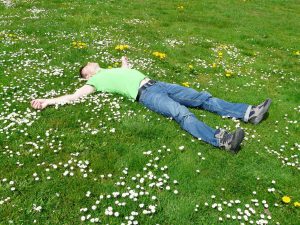 4. Relax and Do Something That You Enjoy
Relax and have fun! What kind of stress can you feel when you are full of joy?
One of the simplest techniques for stress reduction is deep breathing. Sometimes I use relaxation music to reduce my cortisol levels. Both are proven ways to reduce stress.
If you are feeling positive and joyful, your cortisol levels are decreased. So let's think about what makes you happy? Is it something you enjoy to do? Or it's somebody you want to spend your time together? Maybe both? I am curious what is it for you?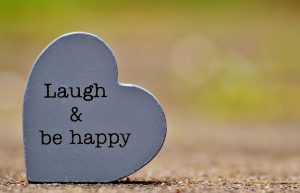 Okay… Maybe you enjoy laughter. It makes you happy and decreases cortisol level in healthy adults as study shows. I even wrote an article about laughter as a stress reduction method.
You can develop hobbies that can help with stress relief, for example, gardening or reading.
Oh, nature and being outdoors is a great way to reduce cortisol. I know this not only from some studies that I read on the internet but from my personal experience.
5. Eat Healthy
Do you ever consider that sugar intake is bad for you regarding cortisol levels? I know, I know. We all love to eat some sweets or chocolate when we feel stressed or sad. Of course, you don't need to fully avoid sugar, and you can eat some sweets from time to time. But you need to know how sugar impacts yours cortisol levels especially if you want to reduce them.
You should know that high sugar intakes may keep cortisol levels elevated. People use sweet deserts as a comfort food, and interestingly, sugar can also reduce cortisol that is released in response to specific stressful events. So sometimes sugary foods can help you with stress. However, overall it's bad for your health and can keep high cortisol levels.

There are foods, that can benefit cortisol levels.
Do you want to know? Of course, you do. Me too. 🙂
A study shows that many fruits like bananas or pears reduce stress levels.
Many studies also showed that eating dark chocolate and drinking black and green tea reduce people's cortisol response to a stressful task.
What is the best drink to reduce cortisol? You know? Could you guess? It's easy to answer. Water! Dehydration increases cortisol, but drinking water reduces it.
Conclusion
So you don't need to ask how to reduce cortisol levels naturally anymore. Now you see how easy is to do it and change your life for the better.
I hope you like this article, and it was helpful to you in some way. What do you think about these tips that I gave you?
I would be glad to know what you enjoy the most. What makes you happy? What do you do to relax?
---
I like to hear from the readers, so please leave me a comment below to let me know if this article helped you.
If you want to know more about ways to reduce cortisol naturally and be happier, please subscribe to this blog, and you will receive notifications of my upcoming posts.
If you liked this article, please share it on social media and let your friends know.
---
Thank you for reading!
Until next time, my friend! Reduce cortisol naturally and be happy!
Linda Mo
Founder of How To Reduce Stress Naturally