Within the pages of this site, I am going to be showing you how to reduce stress naturally. Here will be many stress relief tips that can help you become more relaxed, more focused and free. We all struggle with stress from time to time. Sometimes we don't know what to do even if we know so many tips and methods when we are in stress things get forgotten.
When you are in stress, I am sure that you are usually thinking about methods and tips to reduce or manage stress. Maybe you even ask what is good for stress relief and what can you really do to help yourself. I know that if you are in stress, things don't work out as they usually are. Right? Do you want to feel more peaceful and relaxed? Congratulations! You are on the right website.
Sometimes it is not too hard to get free of stress if you know what to do and what you are looking for. Right now I want to give you few examples.
BEING in THE PRESENT MOMENT

Too often people are stressful because they are thinking and worrying about the future: next job, exam, next project or just the next day. It is very overwhelming. Believe me, I know the feeling. I wouldn't be talking to you about it right now if I didn't deal with it. I was in stress almost all the time and one day I realized that it is the future that I am stressful about and it didn't happen yet. So I said to myself: "you will worry about it later when the time comes." Voila. It helped me. Sometimes you just need to talk to yourself, stressful thoughts and feelings are part of you. And in order to be healed, to manage, to reduce stress, you need to understand your feelings. 
What can you do?
Meditation and deep breathing are very necessary and can help you to be in the present moment and understand yourself.

Exercises are also great stress relievers. My favorite ones are riding a bicycle in summer or just walking.

Nature can be your healer from stress. When I am outside in nature, I feel full of joy, peaceful and hopeful, and stress is nowhere to be seen.
Creative activities and reading for me is a relaxing and amazing way to reduce stress and it should be for you too. I enjoy

drawing

and painting and, at that moment stress just disappears. Making

art

is another way to connect with yourself and let go of stress.
For some people, lucid dreaming helps to reduce stress naturally.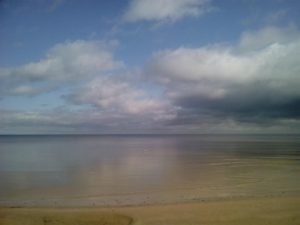 Just try some of these and you will feel better and less stressed.
I hope you enjoyed this article and will return here in the future. There will be much more posts about stress relief tips, ways about how to reduce stress naturally and feel more relaxed and stress-free. 
Remember that I am here to help you and if you have some questions or comments write on the posts or here. You can also send me a message to lindamo@howtoreducestressnaturally.com. I would love to hear from you.
Cheers,
Linda
Founder of How To Reduce Stress Naturally