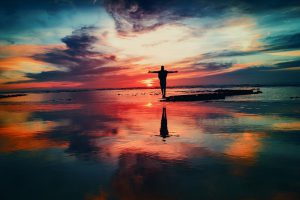 Stress can be overwhelming for us so sometimes we need some kind of inspiration, motivation to go on, to let go or just be yourself in the mist of all things. What can be better than inspirational quotes about stress?
Too often we need encouragement to improve our mood, reduce stress, anxiety, and negative thoughts about ourselves and life itself.
If we want to relieve stress, we need a strategic approach to manage it. We need to learn to control stress, and don't let it consume us. I have something that may help us.
I hope this list of 25 quotes can inspire you to be yourself, relieve stress in your life and let go of things that don't serve you anymore.
Inspirational Quotes For Stress
1. "Happiness is a choice. You can choose to be happy. There's going to be stress in life, but it's your choice whether you let it affect you or not."– Valerie Bertinelli
2. "Creating something I can use is the best stress reliever." – Blake Lively
3. "When I look back on all these worries, I remember the story of the old man who said on his deathbed that he had had a lot of trouble in his life, most of which had never happened." –Winston Churchill
4. "One of the best pieces of advice I ever got was from a horse master. He told me to go slow to go fast. I think that applies to everything in life. We live as though there aren't enough hours in the day but if we do each thing calmly and carefully we will get it done quicker and with much less stress." –Viggo Mortensen
5. "Remember that stress doesn't come from what's going on in your life. It comes from your thoughts about what's going on in your life."– Andrew J. Bernstein
6. "You are braver than you believe, and stronger than you seem, and smarter than you think."–Christopher Robin
7. "Once you accept, truly accept, that stuff will happen to you and there is nothing you can do about it, stress miraculously leaves your life." – Srikumar Rao
8. "The time to relax is when you don't have time for it". – Sydney J. Harris
9. "Doing something that is productive is a great way to alleviate emotional stress. Get your mind doing something that is productive." – Ziggy Marley
10. "Tension is who you think you should be. Relaxation is who you are." – Chinese proverb
11. "Live in the moment, day by day, and don't stress about the future. People are so caught up in looking into the future that they kind of lose what's in front of them." – Jenna Ushkowitz
12. "Everything you need you already have; you are complete right now. You are a whole total person, not an apprentice person on the way to someplace else. Your completeness must be understood by you and experienced in your thoughts as your own personal reality." –Wayne Dyer
13. "There's a lot of stress out there, and to handle it, you just need to believe in yourself; always go back to the person that you know you are, and don't let anybody tell you any different, because everyone's special and everyone's awesome." – McKayla Maroney
14. "Stress is not what happens to us. It's our response TO what happens. And RESPONSE is something we can choose." – Maureen Killoran
15. "Stress comes from the fear of the unknown. To reduce stress, love what you do and be who you are." – Debasish Mrida
16. "Rest is not idleness, and to lie sometimes on the grass under the trees on a summer's day, listening to the murmur of water, or watching the clouds float across the sky, is by no means a waste of time." – John Lubbock
17. "Life is really simple, but we insist on making it complicated."– Confucius
18. "God will never give you anything you can't handle, so don't stress." – Kelly Clarkson
19. "When we commit to action, to actually doing something rather than feeling trapped by events, the stress in our life becomes manageable." – Greg Anderson
20. "When you find yourself stressed, ask yourself one question: Will this matter in 5 years from now? If yes, then do something about the situation. If no, then let it go." – Catherine Pulsifer
21. "Rule number one is, don't sweat the small stuff. Rule number two is, it's all small stuff." – Robert Eliot
22. "Nothing is miserable unless you think it so; and on the other hand, nothing brings happiness unless you are content with it."– Boethius
23. "Gratitude can reduce your stress and anxiety." – Bree Miller
24. "Being in control of your life and having realistic expectations about your day-to-day challenges are the keys to stress management, which is perhaps the most important ingredient to living a happy, healthy and rewarding life." – Marilu Henner
25. "Live a good life. More smiling, less worrying. More compassion, less judgment. More blessed, less stressed. More love, less hate." – Roy Bennett
Conclusion
I love these inspirational quotes about stress because they remind me that I need to stop needless worry, and remember that stress sometimes is only in our minds. We all need encouragement from time to time and get a different perspective on events in our lives that cause stress.
One of my favorite inspirational quotes is the first one. Do you know why? We can control how we react to stress. Do we let it consume us? Or maybe we choose happiness and let go of stress by changing our thoughts about it. Accepting. That let's stress fade away and be in the background while we live happy and fulfilled lives.
What do you think? What is your favorite quote? Is it here on this list? I would deeply appreciate reading your thoughts on this subject. Let me know below, dear reader! We can change our lives together.
---
If you are looking for creative and inspirational ways to relieve stress, CLICK HERE to get more information.
Learn more how to let go of stress, worry and meditate, CLICK HERE and see.
I like to hear from my readers, so please leave me a comment below to let me know if this article inspired and motivated you.
Learn how to manage stress better, please subscribe to my blog, and you will receive notifications of the upcoming articles about stress relief tips.
If you enjoyed this article, please share it on social media to let your friends get inspired and encouraged to live less stressed lives.
---
Thank you! Until next time!
Linda Mo
Founder of How To Reduce Stress Naturally