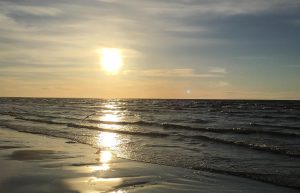 Nature For Stress Relief is the second part of my first post about nature. I have too much to say about this theme, so here I am again. Welcome to the second part of the article! 🙂
Nature has many benefits that can boost both your physical and mental well-being. One of the benefits of nature is the stress relief, and this article is about that. 
It is a story about the connection to nature. How could nature heal you from stress? Here are the new stories of healing.
 1. Forest Therapy
A 2014 study shows that stressful states can be relieved by forest therapy, called forest bathing. Many people use the forest as medicine in Japan. I am certain they will do that in the future. Why shouldn't you do that too? 
Trees are amazing, and the forest is wonderful even a magical place to be. It gives so much and let us relax and de-stress from everyday worries and stressors. I also need to use the forest as my medicine for stress and anxiety relief. They sometimes show at my doorstep and want to go into my life.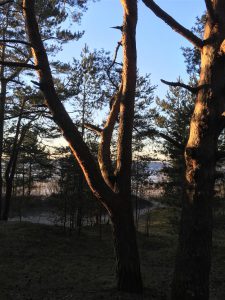 What can be more beautiful than being in a quiet atmosphere with great scenery? How amazing is breath in the clean, fresh air? 
When you go to the forest, you breathe in phytoncides (wood essential oils) and other substances that are good for your health. Forest trips are similar to natural aromatherapy. 
It seems strange to me that forest as a medicine is used mainly in Japan. Dear people, please tell me why forest bathing is great stress management activity in Japan, but nowhere else in the world is recognized like that?
Forests are magnificent in many places in the world. I know that people love forests in my country and they go and pick mushrooms in the fall. But going to a forest for stress relief isn't popular, at least I never hear it.
After reading one article recently, I was glad to hear that more and more people in other countries go to forest for healing, they relax and let go of stress. It is still not as much as in Japan, but the movement has begun.
2. Do You Know How Important Is Green Urban Environment?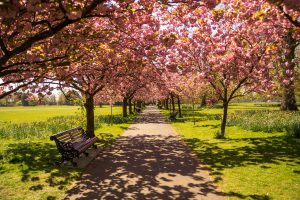 Sometimes people don't understand how important is green urban environment – street trees, parks, and urban forests. Nature needs to be part of the cities, not just buildings. We all are coming from nature and, for our well-being, green spaces and trees are necessary even if some of us may don't understand that.
When some years ago I wrote my master's thesis, then I found many studies about urban trees and how essential they are. One of the social benefits of urban trees is that they reduce stress levels. Did you know that? Do you know that healthy street trees foster the psychological well-being of people?
A 2014 study researched the influence of urban green environments on stress relief. This study shows that the green urban environment helps people cope with everyday stress. Did you know that even short-term visits to urban nature areas have positive effects on stress relief? I am sure you suspected. Isn't it amazing? Nature and natural setting heal us from stress for sure and give us energy.
3. Sea Views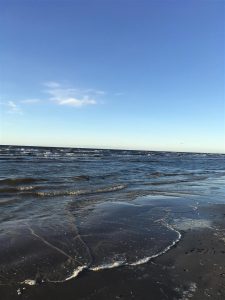 Did you know that sea views can help in stress relief? Researchers from New Zealand found out that the sea view is the best medicine for stress relief. They discovered that people who live close to the sea have lower stress levels than those who have contact with green spaces. 
Researchers explained that these results are like that because the view of green (interfere buildings, other man-made structures) is never 100% natural but the blue sea is. 
Interesting study, right? However, I think it couldn't be true for all places. 
Conclusion
It is clear that nature can boost your mood and help with stress relief. It helps us recover from life's challenges. You can't deny that. Sea views, forest therapy, urban green environment – what can be better than surround us with nature? Invite nature into your homes, cities, and hearts! Go outside and be yourself! See the beauty whenever you go! 
Are you using nature for stress relief? How nature help you with stress relief? What do you think about forest therapy? I want to hear your stories.  Please, write your comments, suggestions or questions below. I will reply as soon as I can. 
---
If you want to know more about how nature can help you to reduce, CLICK HERE.
I  like to hear from you, so please leave me a comment below to let me know if this article helped you.
Learn how to reduce stress naturally. Please subscribe to my blog, and you will receive notifications of the upcoming articles about stress relief.
If you enjoyed this post, please share this post on social media to let your friends know about it too. 
---
Until next time!
Linda Mo
Founder of How To Reduce Stress Naturally