Hey, everyone! Today I will talk more about creative activities as a good tool for stress reduction. What do you think about painting for stress relief? Do you want to know a little bit more about it?
Welcome, my friend, I will tell you all about how it helps me to reduce stress and feel amazing. I am not the only one who uses this creative activity for stress relief.
I know you struggle with stress from time to time, but painting can become a great way to relieve stress and let you feel much better about yourself.
Let's start!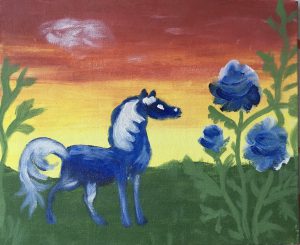 ---
Painting and Me: How it all started?
I never went to art school or university. Of course, I had some art lessons at school where we draw and painted something.
I am not a painter by profession. But I am an artist, and I believe we all are from birth. Humans are creative beings by nature, and we can't deny our ability to create something with our thoughts or hands.
The question remains: how it all begun?
All my life I wanted to paint on canvas, and I usually thought about oil painting. I understood that it's not so easy and that I need some teacher who would show me how. But it looks like that I never needed a teacher, but just determination, wish, and confidence.
One day, I decided to start painting. I choose acrylic colors, read some information on the net, watched videos, and went to buy canvas, paints, and brushes.
Then I just started to create my first painting, and I enjoyed the process very much. It was an awesome feeling of creation.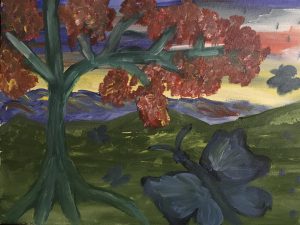 ---
Painting For Stress Relief. Does it help? Really?
I don't know about you, but I can tell for myself that painting truly helps with stress relief. When I touch the canvas with my brush, everything falls away. Stress is gone in one single moment.
This way I know that stress, anxiety, negative thoughts, awful feelings are only illusions created by us.
Painting is creation. It's the ultimate relaxation technique. If you would say that the best stress relief method is meditation, you would be right. Painting for me is meditation. When I paint, I am in a meditative state, peaceful and in the present moment.
I am not the only one who thinks about painting as stress relief. Many people think that creative activities and art are a great way to relax and let go of worries.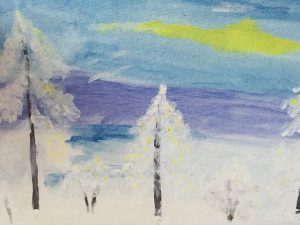 Please, don't ask about studies that prove how healing is art. I don't want to get to start to talk about that right now. If you want to know something more about it, read my other articles that touched this theme.
---
How Does Painting Help You to Reduce Stress?
---
I think I can talk all day about it, and I would never stop. Okay, jokes aside!
Here are reasons why painting helps you relieve stress and feel better.
1. Meditation
Painting in some way is a meditation, and I think many of you know that this method can help you to reduce stress, relax and calm yourself. There are some studies about the benefits of mediation.
Meditation helps me now, and it helped me in the past when I was very stressed and anxious. In many ways meditation healed me and helped me to stay sane. Yes, there was a time when everything seemed to fall apart.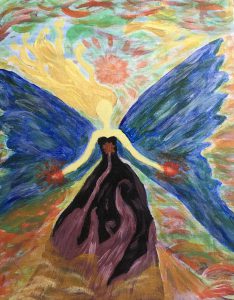 What can be better than achieving a meditative state while doing what I enjoy? Right?
I could agree with one blogger's words that painting connects the mind, body, and spirit because I know it's true. Every time I paint, I feel it. I feel how my creative powers awake from a nap and thrive. Everything is so colorful and beautiful… Life seems so much enjoyable.
2. Painting as an Art Therapy
Nowadays art therapy is used to treat patients who have emotional trauma, anxiety, depression, or stress. I didn't know before that some resorts incorporate a painting session led by an art instructor into their stress relief packages.
Painting has a calming effect, and it lets you explore new possibilities because you open doors to your imagination and can find new ways to live and create.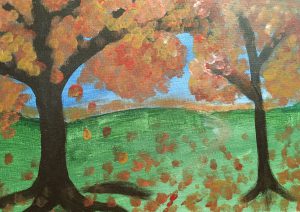 3. Doing What You Love
If you want to reduce stress, you need to do what you love and enjoy. It relaxes you, and you can see that your life is more than work and worries. Your life is beautiful and is meant to be appreciated and enjoyed.
By doing what you love you remind yourself of it. When you are doing that, your mind isn't occupied with worry, anxiety, and stress anymore, and you are being in the present moment.
If you love to paint or create something, just do it, and that will help you tremendously. Your mind and body will say thank you for it.
Do you know what I like to do the most? It is to create something special for my loved ones. Mostly I choose to paint some nice paintings and give them as a gift to my special loved one, a friend of family members. To create something colorful and beautiful let you let go of stress and forget all about worries.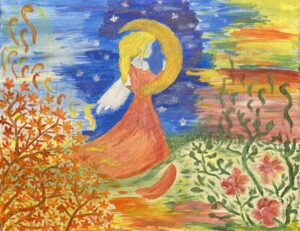 ---
Do You Want To Start?
Are you interested? I know I would be.
Remember that you don't need to worry if you don't know how to start and what to do. Nowadays it's easier than before, and you can check many beginner's videos on YouTube. For example, you can watch the video below and get to know a little bit more about how to start painting on canvas.
Youtube video made by ARTEZA
You can read my article about creative tools and decide what can be useful for your creative endeavors.
Don't worry how your painting would look like, remember what great painter Vincent van Gogh said:
If you hear a voice within you say you cannot paint, then by all means paint and that voice will be silenced.
Just be yourself, my friend, and enjoy the process!
---
Tips How You Can Use Painting For Stress Relief
There are many ways how you can paint something and relieve stress. I think you can paint almost anything and relieve stress as long as you enjoy that creative process.
I will give you some examples of how I use painting as a form of stress reduction.
Lately, I painted something for my grandmother's 90th birthday, and it was a very joyful experience. Remember when you feel joy and enjoy something, you let go of stress, anxiety and are happier.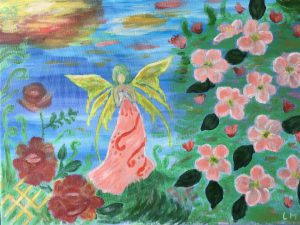 How did I paint it? I watched one YouTube video (check the video below) because I wanted to know how to paint apple blossoms. But the result was different than showed in that video, however, I wasn't worried about it. I think that fact alone is what made my painting unique.
Video made by Youtube user Irina Lyamshina
If you aren't worried about the result, you can use painting for stress relief. But if you can't, you can make everything even worse.
---
Conclusion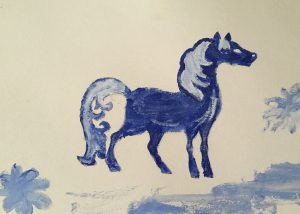 Painting for you can become a great way to reduce stress and relax. You only need to try!
You will see how amazing it is if you let yourself unleash your creative abilities.
Did you enjoy this article? Are you ready to start painting? If you already paint something from time to time, share your experience with me. I would love to hear your opinion, and I am waiting for your comments.
---
I would love to hear your opinion about how this article helped you so please leave me a comment below.
If this article helped you in some way, let your friends know by sharing it on social media.
If you are looking for ways to relieve stress, please subscribe to this blog,  and you will receive notification when a new post is published.
---
Now I am going to paint something new. So until next time, my friend!
Thank you!
Linda Mo
Founder of How To Reduce Stress Naturally