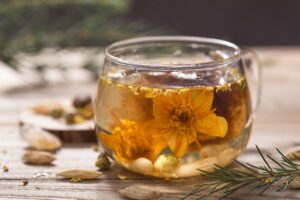 Do you know what is Jasmine tea and how it can help you with relaxation and stress management?
Here you could find answers to your questions and choose the best Jasmine tea brands for yourself.
Stress is everywhere especially recently with something like coronavirus running around and scaring everyone. I worry too much recently and I am stressed, I can't deny that and it is amazing to rest, and relax while drinking amazing tea. Usually, I love herbal teas, but nowadays I fall in love with Jasmine tea and it makes me feel better.
Of course, only drinking tea can't be something that can solve all our feelings of stress and worry but it is an important part of the stress management and relaxation puzzle that consists of many small pieces.
We all also need to remember that everybody has different ways to reduce stress and relax and what helps one person doesn't necessarily help another one.
Okay, let's get ready for a nice cup of tea. 🙂
What Is Jasmine Tea
Jasmine tea is a tea that is scented with the aroma of Jasmine blossoms. Mostly green tea is the base tea for Jasmine tea, however black and white tea are also used. It has an amazingly sweet and highly fragrant flavor that I love some much. This is how I started to like Green tea to be honest. Before I tried Jasmine tea, I even hated the taste of Green tea.
Jasmine tea is the most famous scented tea in China and it has a long history. Nowadays it is quite a common drink that you could get in tea shops around the world. 
Some scientific studies show that drinking Jasmine tea can have some health benefits and it is good for immunity. Actually, some people even say that Jasmine tea is one of the healthiest teas you can drink.
Best Jasmine Tea Brands
Here you can find one of the best Jasmine tea brands for you and enjoy the benefits that Jasmine tea offers. All of these are great ones,  but it depends on you, because we all have different tastes, desires, likes and it is only normal that there are different brands and types for you to choose it.
1. Jasmine Green Tea from China – Traditional Chinese Tea from Fujian – Yin Hao Silver Tip Loose Leaf Tea 100g
Best Place to Buy: CHECK IT OUT
Description: This tea is sweet and subtle with hints of brown sugar and an amazing and unmistakable scent of the flavor of jasmine. It is a great tea for relaxing after a stressful day or drink in the middle of the day to rest, relax, and let go of some worries you may have.
This product contains young green tea leaves that are flavored with the beautiful taste of fresh jasmine blossoms. This Jasmin green tea is grown in the mountains of Fujian province.
I am sure after this nice and traditional Jasmine tea you will be relaxed and feel only peace and it seems that I am not the only one thinking like that. 🙂 They write the same thing when they promote this wonderful and scented tea.
Ingredients: Green tea leaves and buds
Pros:
Many customers love this brand and are saying that this tea doesn't have a bitter aftertaste and it has a lovely fragrant aroma
Cons:
One customer was very disappointed with this product saying that it has bad taste and smell so little of Jasmine
---
2. 

Tea Pigs Jasmine Pearls Tea Bags Made with Whole Leaves, Pack of 50
Best Place to Buy: CHECK IT OUT
Description: This product contains pure green tea with Jasmin flowers that come from the Fujian province in China which is famous for its Jasmine tea.
These tea bags have been made using whole leaves. The green tea leaves are carefully hand-rolled into a pearl that is later engulfed in fresh Jasmine flowers to absorb the natural floral scent.
This tea could help you detox and relax and that way you can deal with stress better and more effectively. You can also drink it iced.
Ingredients: pure green tea with Jasmine flowers from the Fujian province in China
Pros:
Environmental friendly – the packaging is certified plastic-free by A Plastic Planet

Suitable for Vegetarians and Vegans

It is free from Dairy and Gluten

It has a light, floral, refreshing, natural jasmine taste
Cons:
It is made in a factory that handles nuts
---
3.

Natural Chinese Jasmine Green Loose Leaf Tea 125g Caddy
Best Place to Buy: CHECK IT OUT
Description: This Chinese green tea with natural Jasmine flowers is refreshing and well balanced. It has a wonderful aroma and that could help you relax and deal with stress.
Ingredients: Chinese Green tea
Pros:
Wonderful aroma

It is packed in an attractive black tin caddy

Many customers liked this Jasmine tea brand and enjoyed this tea
Cons:
Some customers complained about this tea and one of them said that it smelled like perfume. Other customers said that they could taste zero jasmine flavor in this tea, poor quality and some of them were not happy to see that tea is  wrapped in plastic without recycling instruction
---
4.

Tealyra – Imperial Jasmine Dragon Pearls – Loose Leaf Green Tea – Jasmine Green Tea with Pleasant Aroma and Tonic Effect – 100g
Best Place to Buy: CHECK IT OUT
Description: This high-quality Jasmine tea offers great taste and aroma. Like with other Jasmine teas, this one can help you rest, relax, and even lift you up. It has the taste of green tea with a sweet flavor that comes from Jasmine leaves.
Jasmine tea even acts as a natural antidepressant they say and it could improve your mood and help to cure a common cold.
Ingredients: Green tea leaves and Jasmine flowers
Pros:
It can be a great gift for your friends, colleagues, neighbors, and relatives and help them be less stressed
Cons:
Some customers complained about this Jasmine tea brand and said that it is not good quality tea and it doesn't smell or taste like Jasmine tea
---
5. 

Capacitea Loose Leaf Chinese Green Tea Flavoured with Jasmine Flowers – Low Caffeine – Bulk Size Wholesale Pack – Ideal for Restaurants, Cafes & Catering – 1.5kg
Best Place to Buy: CHECK IT OUT
Description: This is a traditional Chinese tea that prepared using traditional methods and grew in tea plantations.in China.
If you want to drink loose leaf bulk tea with an economical pack size, this tea may be a perfect solution for you.
If you don't enjoy this loose green tea, the company offers a full refund.
This tea has an amazing floral flavor and a smooth taste. The delicate floral aromas and flavors in this tea come naturally from green tea leaves and Jasmin flowers.
Ingredients: Green tea, Jasmine flower
Pros:
Money-back guarantee

Only traditional methods used to prepare this tea. It doesn't contain artificial flavors or pesticides

Compliant to EU Food Safety regulation

It is an economical pack of 1.5kg

It can be used for you, your guests, and customers

Free delivery
Cons:
Two customers complained that they received less than they ordered
---
Final Thoughts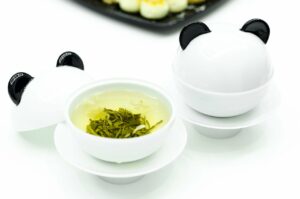 Now you know what is Jasmine tea if you didn't know that before and how it could help you with relaxation and stress relief.
Jasmine tea is an amazing and relaxing tea that could help you become less stressed, anxious, and worried and it is great for your well-being and health.
You could also choose which brand and type of Jasmine tea you like and seems the best for you. Which type of Jasmine tea did you choose from this list? Did you drink Jasmine tea before and did you like it? What do you think about this article? What kind of questions do you have after reading it? Let me know below!
Have a nice day!
Thanks!
Linda Mo
Founder and Owner of How To Reduce Stress Naturally