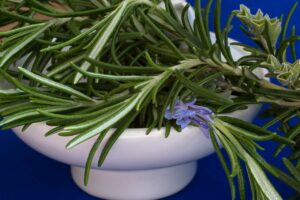 What is Rosemary good for? How can help it with anxiety and stress relief?
This post is about great Rosemary health benefits and how it can be helpful for you in managing stress and dealing with stressful situations.
---
If you buy something after clicking the affiliate links, we will get a small commission from it.
---
As we all know stress is everywhere and there is good and bad stress. Remember that you if experience stress that seems like it all the time, that means it is chronic stress and that is a dangerous thing that could impact your health and well-being in negative ways.
What Is Rosemary Good For?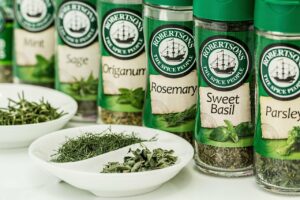 Rosemary is a great, aromatic evergreen herb that is native to the Mediterranean.
It is used as a culinary spice, perfumes, aromatherapy, and also because of its health benefits.
Interestingly, Rosemary essential oil has a long history that goes to ancient Greek societies, Roman Empire, and even Egyptian civilizations. Greek scholars used rosemary oil to improve their performance. They thought that it helps encourage memory and aid thinking. 
This amazing herb has been used since ancient times for medicinal properties – improve memory, promote hair growth, help with muscle pain, boost the circulatory and immune system. 
It was used as an antifungal and antibacterial remedy that helps to promote the regulatory and digestion system.
Rosemary and Stress
How does Rosemary help with anxiety and stress? That is a really important question because this is a website where posts about stress relief have been posted. This is a website where we are talking about stress. Right? So let's return to the topic! 🙂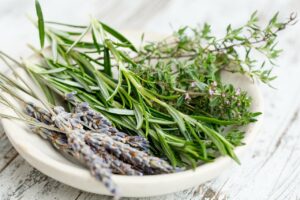 Rosemary tea can be helpful for anxiety, stress relief, and relaxation.
But this time we will talk about something else that can be important – essential oils. We know that essential oils are beneficial for stress relief and stress management. But not all of them are equally good for stress.
Rosemary is one of the essential oil that only recently shows some promise and there are many studies that show that it can help relieve stress and anxiety.
For example, rosemary essential oil has been shown good results related to changes in mood and physiological responses in some human aromatherapy studies. Other studies showed that people who inhaling rosemary aroma said that they are feeling less anxious and more relaxed.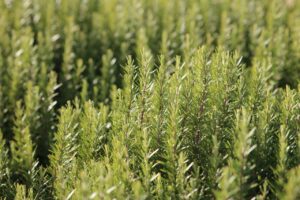 When you are stressed, your

cortisol

levels are up. Basically high cortisol levels show that you are stressed.
Rosemary has this ability to reduce cortisol levels so the question is: why would not try that could maybe work for you?
But we aware that not all things work the same for everyone. What works and helps one person, doesn't necessarily mean that it will work for you the same way. 
Rosemary oil for aromatherapy is a good choice for de-stressing if you still have work that needs to be done, because it is not only calming you down but also helps with concentration and memory.
Rosemary Essential Oil Brands
Here you can find three nice and great Rosemary essential oil brands and you can choose what is best for you.
1.
Gya Labs Rosemary Essential Oil for Hair Growth, Skin Care, Focus – 100 Pure Therapeutic Grade Rosemary Oil for Aromatherapy – 10ml
Best Place to Buy: CHECK IT OUT
Description: This Rosemary essential oil has a herbaceous and crisp aroma just like chopped rosemary herbs, according to a description of this product. 
This brand can be used to promote hair growth and healthy skin. Rosemary oil can help to boost concentrative powers, because of its refreshing aroma. 
This rosemary oil is harvested from Spain and steam distilled. It is great for an aromatherapy diffuser.
Ingredients: 100% Natural Rosemary Essential Oil
Pros:
Natural ingredients
It is great for aromatherapy, skincare purposes, and hair growth
Cons:
One customer thinks it is overpriced and is sure that he can get a better one for the same price. He thinks it has a poorly manufactured bottle because you make a mess everywhere and lose big quantity. 

Very pricey
---
2. 
Naissance Rosemary Essential Oil (no. 108) 100ml – Use in Aromatherapy & Diffusers
Best Place to Buy: CHECK IT OUT
Description: This is a nice brand of Rosemary essential oil. It is 100% pure and steam-distilled Rosemary essential oil which nice aroma can uplift you, make you more relaxed and revitalized.
It blends well with Cedarwood, Geranium Rose, Grapefruit, Lemongrass, Lime, Lemon, Orange, Basil, Tea tree, Tangerine, and Peppermint.
Ingredients: Rosmarinus Officinalis (Rosemary) Oil
Pros:
Vegan and Vegetarian friendly

Not tested on animals

An uplifting aroma that will leave you feeling relaxed and revitalized.
Cons:
Few customers complained that this was not rosemary essential oil, but some other essential oil. It seemed something was mixed up.
---
3. 
Tisserand Aromatherapy Rosemary Organic Essential Oil, 30 ml
Best Place to Buy: CHECK IT OUT
Description: This is organic and pure Rosemary essential oil.
It blends well with Lavender, Lemongrass, and Grapefruit.
Rosemary oil with its warm and herbal aroma cleanses a room and could make you more creative. Rosemary is great and may help improve short-term memory.
It can be used in a diffuser or as homemade blend use as bath oil or facial treatment.
Ingredients: 100% Rosmarinus officinalis (rosemary) leaf oil
Pros:
Vegan and Vegetarian friendly

Cruelty-free (Not tested on animals)

Doesn't contain absolutely synthetic fragrances, parabens, or SLES/SLS
Cons:
One customer complained that it 

Few customers said that this essential oil has not rosemary aroma
---
Final Thoughts
Hopefully, this article that is called "What is Rosemary good for?" made you aware of the great health benefits of Rosemary and how it is helping with stress relief and anxiety. 
Rosemary, of course, helps to deal with stress and anxiety relief, it improves memory, helps with muscle pain, skincare, promotes hair growth, and can be a boost for the immune and circulatory systems.
What do you think about Rosemary and its essential oil? Did you know about Rosemary's health benefits before? Did you ever use Rosemary essential oil before? What you used rosemary essential oil before? How did it work for you? Let me know in the comment section below!
Have a nice day! Thanks!
Linda Mo
Founder and Owner of HowToReduceStressNaturally