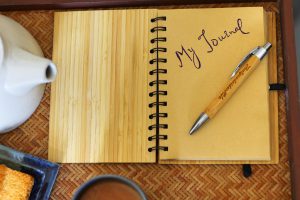 Hello, everybody! Welcome! Today I will talk about journaling and stress relief. How are they related? How can journaling help you to reduce stress naturally and easy?
So finally you bought some beautiful notebooks and wanted to start a journal or diary. But you are more confused than ever. Are you not sure how to start? What to write in a journal? How is it working? You just can't sit all day looking at a blank page. Can you?   
Don't worry, my friend, you will start at no time, and you will be surprised why it was so difficult to begin. Beginnings is always a little bit difficult because you are not used to them – new feelings, new emotions, new responsibilities, new schedule, basically new everything.  
---
What To Write In A Journal?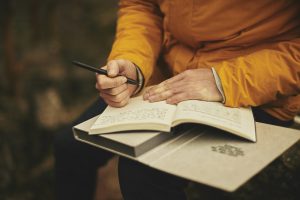 I write a diary almost every day, and I love it. But even for me sometimes it's hard to think what to write. I just don't want to write about mundane and uninteresting things. Write something because you should write a journal every day, it's horrible. You will stop doing that because it will become uninteresting and boring to you. Why doing something that is no interest to you? That can make everything worse for yourself and wouldn't help you with stress management. 
So what to write about and feel joy while doing it? I will give you some ideas what to write about in your journal. These ideas not only help you to know what to write about but let you reduce stress by journaling.
1. Your Deepest Thoughts, Feelings, And Emotions
A true essence of journaling is to write your deepest feelings, thoughts, and emotions. To put everything on the paper can help you to understand what is really important to you and let go of stress. You can write about what makes you stressful. Write your feelings of joy, anger, love or sadness. If something is in your mind that bothers you or you are constantly thinking about, write it down. 
Some time ago I wrote poems in my diary. You can do that too. Just try! Maybe you will even become a poet. 🙂 But the most important thing is that it will let you express yourself and your feelings.
2.Things That Impact You
It's a good idea to write about things, events that impacted you in some way. For stress management, is great to write about them, and you need to reflect on your experiences of everyday life. You can also write down ideas and articles you read and what kind of impact they have on you. Which books touched your heart? What movies made you laugh and forget about stressors that are constant reminders of upcoming deadline?
3.Your Goals And Dreams
How amazing is to write your deepest goals and dreams? Imagine even seemingly impossible dreams, unbelievable goals! How that makes you feel? In this way, you can put your priorities straight, and you can forget about stress by thinking about something that you want to achieve. At least, it helped me. What about you? You can even write small goals, your weekend plans. When you have something to live for, something amazing waiting for you, it's easier to manage stress.
4.Some Things You Are Grateful For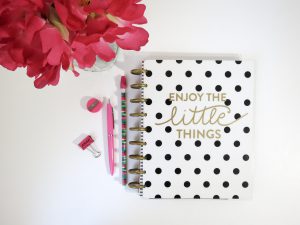 Being grateful always helped me to understand the most important things in my life and feel happy. Gratitude is a powerful feeling that can let you reduce stress, manage it easier. 
Some people even keep gratitude journals because they are grateful for things in their life and want to write them down. If you understand that you have amazing people, things, experiences in your life, then you can manage stress much better. Being grateful always lifts up your spirit, it makes you feel worth it like you should, because of that you can reduce or even eliminate stress from your life. You understand that many of the stressors are temporary, and they will pass, but things that are constant and great in your life will stay.
---
Journal Your Way To Stress Relief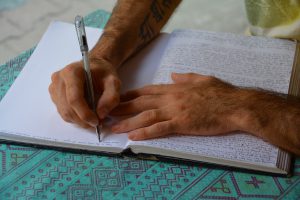 Journaling could help you identify what is causing the stress or anxiety you are feeling. I am sure you know that if you are aware of your stressors, it is much easier to resolve the problems and reduce stress. Writing down your emotions, feelings, and thoughts let you understand them. Why do you need to that? It's because if you understand the issue clearly, you can do something about it. You always should know the cause, only then you can resolve any problem, and, in this case, reduce stress.
Creative activities such as writing can reduce stress. Some studies show that journaling helps with stress and anxiety relief, but scientists aren't exactly sure how it works. Do you need somebody to tell you how it works? Just try and see for yourself! Journal your way to stress relief!
---
Conclusion
Now you know what to write in a journal, right? Journaling is an amazing way to stress relief, but it can't be for everybody. Don't worry if it isn't for you! There are many ways to reduce stress naturally.  🙂
I would love to know your stories. How writing a journal help you with stress relief? What are you usually writing in your diary? Please write your comment, suggestions, and questions below. I would be happy to discuss these things with you.
If you enjoyed this article, please share it and let other people know. 
Until next time
Linda Mo
The Founder of How To Reduce Stress Naturally