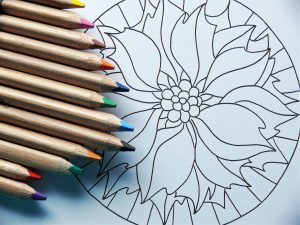 Hey, my dear reader! Welcome back! Today I will talk about adult mandala coloring books again, so this article is the second part of two-part series about adult coloring books for stress relief.
First I would love to know about you, my friend. Can I call you that?
How are you feeling today? Are you ready to find a peaceful place to color mandalas and see how your stress falls away with every second? Each color you use brings you closer to peace. Each mandala gives your more balance in your life.
You all know that adult coloring books are great for stress relief. Right?
When I first wrote an article about adult coloring books, I didn't know that coloring is one of the best ways to be in a meditative state.
Can you guess why I am even talking about mandala coloring books?
Mandalas provide inspiration, a deeper connection to yourself and the world around you. They can help you find peace and balance in your life. You are encouraged to use your imagination and creative powers that sometimes sleep deep inside in yourself. Don't you think that too often you forget about them? That makes life less enjoyable because you are creative by nature and if you don't use these gifts then you lose some essential part of you.
How can mandala coloring help you with stress relief?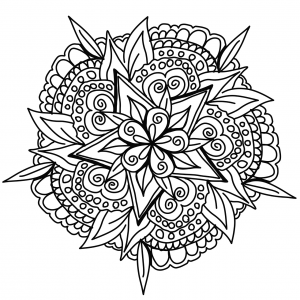 It's easy! Let's think about it!
When there is stress, you are out of balance and peace seems impossible, because so many things need to be done and worry doesn't let you go even in your sleep.
But coloring can bring you in a meditative state when all worries and stressful thoughts and feelings are gone. You are in the present moment and peaceful, enjoying yourself. Creativity reduces stress and helps you let go of negative thoughts and tension.
You need to try and see the beauty and power of mandala coloring for yourself.
Check these five great mandala coloring books for adults and color your stress away!
---
ADULT MANDALA COLORING BOOKS
---
1. The World's Best Mandala Coloring Book: A Stress Management Coloring Book For Adults
Where to buy: CHECK IT OUT
Paperback: 100 pages
Description: This book consists of 50 exquisitely detailed mandalas. They were submitted by artists from all over the world and later reviewed by this book's editors who chose 50 mandalas for this adult coloring book.
Pros:
It has mandalas with different types and styles from detailed to simple

Each image is printed on individual pages as large as possible
Cons:
Some people complained about designs and wanted a little thicker paper
>> Get This Book Today <<
---
2. 

The One and Only Mandala Colouring Book (One and Only Colouring)
Where to buy: CHECK IT OUT
Paperback: 72 pages
Description: This coloring book has 70 beautiful mandalas to color at your leisure, and they can help you to relax from daily stress. It can help you to channel your inner creativity and free your mind. 
Pros:
This coloring book has extra thick paper, and that means you can use any kind of coloring implements (pencil, pen or paint) that you want

Lots of different illustration styles
Cons:
Incredibly tiny fine lines may be difficult to color
>> Get This Book Today <<
---
3. 

The Mandala Coloring Book: Inspire Creativity, Reduce Stress, and Bring Balance with 100 Mandala Coloring Pages
Where to buy: CHECK IT OUT
Paperback: 208 pages
Description: You can use these mandalas to help you find balance and tranquility in your life. This book has 100 customizable mandala drawings that you can color.  It can help you to relax your mind, find inner peace and express yourself creatively.
Pros:
These mandalas can be colored quickly, but can also be done with great detail if you desire

Most people were satisfied with the designs (drawings are excellent, interesting shapes) and quality of the paper

Each mandala is on a page so you can use markers and that doesn't ruin the one on the back
Cons:
Some people wanted a more challenging book and thought that these mandalas were easy to color. Mandalas were almost childish with and overly acceptable amount of repetitive shapes, more so than another other mandala books

But as always some people also complain about the quality of the paper

Some markers can bleed through
>> Get This Book Today <<
---
4. 

Botanical Mandalas Coloring Book For Adults – Antistress Coloring Book
Where to buy: CHECK IT OUT
Paperback: 62 pages
Description: This antistress coloring book for adults can help you with stress management and achieve the inner peace that too often is not easy to find at home or work.
Pros:
It is perfect for markers, fine tip pens, and coloring pencils

People are very satisfied with this book (amazing images to color etc.)
Cons:
There are people, who thought that some of the designs are a little too intricate and can only be colored with fineliners
>> Get This Book Today <<
---
5. 
Glowing Mandalas 2: Adult Coloring Book with Black Pages
Where to buy: CHECK IT OUT
Paperback: 66 pages
Description: This book can give you 30 designs with different styles and levels of difficulty for you to color and enjoy.
It has black pages that every colorist loves.
Pros:
Printing is one-sided

Good quality of the paper (no problems with ink leaking through the paper)
Cons:
One or two mandalas are maybe a little too intricate

It may be better if pages would be perforated
>> Get This Book Today <<
---
Final Thoughts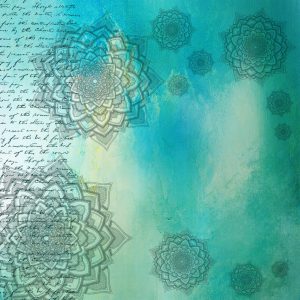 Coloring mandalas is a great way to de-stress and relax. This kind of activity can lead you to a better life because you reach a meditative state while coloring mandalas and that alone can give you more harmony.
BUY ONE OF THEM and see for yourself how coloring mandalas can change your life!
What do you think about these five adult mandala coloring books? Let me know below!
---
If you are looking for the adult mandala coloring books, CLICK HERE Now to learn more.
I like to hear from you, so please leave me a comment below to let me know if this article helped you.
If you want to know more about ways how you can manage stress, please subscribe to this blog, and you will receive notification, when a new post is published.
If you think this article is helpful, please share it.
---
Color your stress away and see, how everything becomes brighter in your life!
Until next time, my dear reader!
Linda Mo
Founder of How To Reduce Stress Naturally