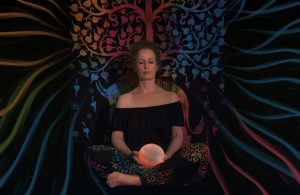 Does Meditation reduce stress? That is the question I asked myself some years ago. Today I want to tell you a little bit more about meditation and how it can become a stress reliever for you. 
Are you stressed and worrying about everything and everyone?
When stress is slowly trying to kill you, and your thoughts are racing, then you want something to ease your mind and help to manage stress better, right? 
Do you want to live a less stressful life? I am sure we all want that. 
Does Meditation Reduce Stress?
Of course. I wouldn't be writing about it if meditation wouldn't help. At first, I want to tell you my story. Do you want to hear my story? People usually love stories.
When I was in school some years ago, I suffered from anxiety and stress. I even had physical symptoms – itching and rash. Who wants to live life like that? I understood that with time it only could get worse because adult life is much more stressful.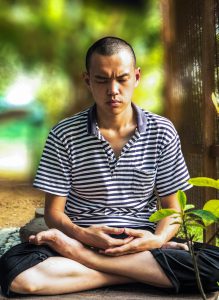 Because of meditation, everything changed for me. I was healed. Maybe it sounds strange or like a fairytale but it is true. My perception of the world changed.
I reduced anxiety and stress by letting go of things, feelings, emotions that were holding me back. I become less stressed and anxious, freer. One day the rash that made me feel even tenser was nowhere to be seen, bygones are bygones. I am grateful for that!
Of course, it wasn't some magic bean in fairyland, and it didn't happen overnight. I still feel stressed from time to time, and anxiety sometimes finds me, I am not immune to stress. I wish I could be. 
Now I know that when I feel stressed, I can use meditation to reduce stress. Meditation helped me in more ways than one, and I am sure it can help you too.
How Can I Do This? How To Begin To Meditate?
I am sure some of you may ask that, and you need information and advice, right?  There were times when I said that I don't know how to meditate. At least, I thought that the way I meditate is not the proper one.

Right now I know that there's no right or wrong way to meditate.
I read an article a while ago that stated everyone who meditates daily has their own, unique way to do that. I agree with this opinion. Each person their way is the best for them, and nobody can say otherwise. 




Do You Want To Know How To Meditate?
I know you do. I am just checking. 🙂 You need to understand that there are many ways to meditate and there are different ways how you can look at meditation.
So what can you try before you decide what works for you and make your own, unique style with time? So let's see!
What Type Of Meditation Is Good For You?
Of course, only you can answer that. 
After some years of research (it seems that way) and experience, I came up with this classification you see below. I can say that one course of meditation led me to this. I hope this classification of meditation will be easily understandable for you too.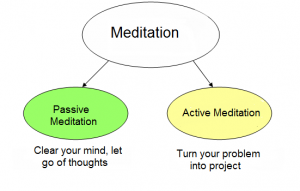 Passive Meditation.

This type of meditation means that you need to clear your mind and let go of your thoughts. For many people who have an active imagination, a lot of ideas are very difficult to use passive meditation. It is frustrating for them. Actually, many people are problems with this kind of meditation.

How can you meditate and relax if meditation makes you feel frustrated and overwhelmed? Of course, you can't. You can try, but it will be difficult for you, and one day you will just stop trying. If you want to try passive meditation, either way, you can use music with binaural beats, and that will help you to relax and let go of your thoughts. 

Active Meditation

I love this type of meditation, and it is my favorite one because I have a vivid imagination, I like to daydream. I enjoy the meditations where I don't need to get rid of thoughts and clear my mind, but replace these thoughts with positive ones and let my imagination take over. 

Active meditation means turning your problem into a project, and that helps you to resolve your issues and find solutions. It sounds amazing, right? Who doesn't want to resolve his or her problems?

These meditations often are guided meditations. Do you want examples? For example, creative visualization meditation helps to find peace and relaxation going to your special place in your mind's eye. You can be whatever you want to be. Do you understand how powerful for you could be forgiveness or gratitude meditations? I do. Just try!
Conclusion
I am sure that there are so many things to learn about meditation and explore. 
Meditation is essential for stress relief and can help you to find inner peace, solutions to your problems, and heal you. In fact, it's a powerful method that helps you get free of stress.
We all are different, and the way we meditate is different too and unique.
Just try meditating and find your own way. Heal yourself!
Do you meditate? Do you want to try? 
If you want to learn different methods and techniques of meditation, then there is a course that can help you to get started with meditation practice. 
Return here because there will be many more articles about meditation, mindfulness, and stress relief.
---
Does meditation reduce stress? CLICK HERE to find out more ways how meditation can help you release stress and free yourself.
If you are looking for the best meditation course, CLICK HERE to get more information.
I would love to hear from you, so please leave me a comment below to let me know if this article helped you. Tell me your stories about how meditation helps you to reduce stress and heal yourself!
If you want to know more about ways to reduce stress naturally, please subscribe to my blog, and you will receive notifications of the upcoming articles about stress relief tips.
If you enjoyed this article, please share it on social media and let your friends know about it too.
---
Until next time!
Linda Mo
Founder of How to Reduce Stress Naturally