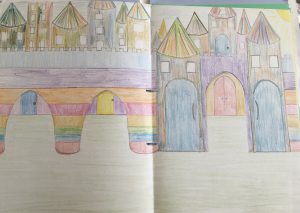 Hi, friends! Today's topic is drawing for stress relief. You already know that creative activities are great for stress relief, and drawing is one of them.
Here I will be talking about some tips and pointers how to use drawing for stress relief and how it can become one of the ways to relax and let go. Do you want to know it? Of course, you would love to do it. Right? Who doesn't?
Reduce your stress with style and creative power! Let's find out this together!
So what am I talking about today? 
Creative activities is an amazing way to relieve stress and anxiety, and it is good for your mental health. But today (as I already said) I will only talk about drawing as a creative tool for stress relief. Of course, I will talk about other creative activities like painting and photography, but I promise you, my friend, that I will write about them in the future. 
Today we need to explore one of the easiest creative activity that you can do whenever you are – in a home, school, work, on the bus or waiting for someone or something. Do you want to know what to do and how to start? Basically, you only need to want to draw. Remember you have creative abilities, and some of you may forget about them.
I thought a long time what to write about drawing as a tool to relax. It wasn't easy because I didn't want to write the same things that I talked about in my other articles about creative activities and art. But finally, I came up with these tips and ideas for drawing. I hope you will enjoy it, and let's go on this journey together!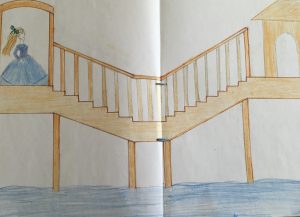 Drawing For Stress Relief
I know from my experience that drawing helps with anxiety and stress relief. I saw how my mom draw, when she was nervous about conference call or pupils were drawing at school in their exercise books.
I draw strange lines and flowers while studying, when I was stressed about my upcoming exam. So I fully understand how drawing can be helpful for stress relief.
When you draw, your mind relaxes, and stress goes away even if it is for a little while. But still, it's nice to experience clearer mind and a little more ease before fully returning to your task at hand. Right?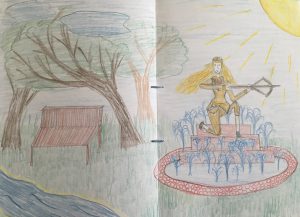 1. How Does Drawing Relieve Stress?
That's the question you want to ask (At least, I would, if I would be in your shoes reading this article.). Yes, you can ask because I have more than one answer.
Concentration on your art project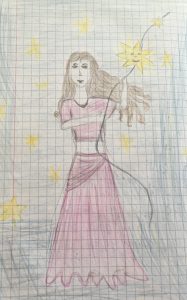 When you draw, I believe that your concentration is focused on your artwork – colors, lines, and shapes are your world at that moment. What kind of stress can be if you dedicate yourself to your creation?
It's not important how good is it, how small or big. Only the process, this amazing creation process is important. It's your journey to yourself deep within. It is a journey from a blank page to art. Your art. 
Way to escape or being in the present moment
I think it depends on how you want to look at these things. Some of you may call drawing or painting as an escape from your problems, everyday life, and stresses that always seem to find their way to you. I believe many of you think about drawing as being in the present moment and similar to meditation. Me too.
When you draw, you can only be in the present moment, and there isn't room for any other thoughts than your creative ones that are focused on your drawing. You can only think about shapes, colors, details, your artwork. The world that you are creating. 
2. Can Drawing Be Stressful For Somebody?
I read one surprising opinion of one person on the net, and it shows how truly different we all are. This person said that drawing is stressful for him because he looks "at a certain end destination for his masterpiece. In fact, he didn't enjoy the process, and this is why drawing is stressful for him. 
3. Ways To Draw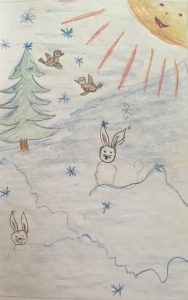 1.You can try the Zentangle art. It seems interesting method to relax and de-stress. If you want to read more about it, check my article. 
2. Take pencils, a paper and put music that you like. Relax. Breath. Let your emotions flow through your hand and draw everything that you can think of, everything that you feel like drawing. It doesn't matter. It can be only colors or shapes.
3. People usually write a journal about their thoughts, feelings, and emotions. You can make an art journal, and draw everything you feel or think, everything that bothers you in some way and makes you stressful. 
Do You Want To Read More?
I already once published an article about drawing as a tool for stress relief – Relieve stress by drawing. There I talked about five ways to draw that can help you to let go of tension. If you want to explore how to de-stress by being creative, you can check my article Does art reduce stress and find out about ten ways to do it.
I know, I know. Oh, I can see what you are thinking. Lol. It looks like that the creative activities are important and healing, and it's true not just for me, but for many others out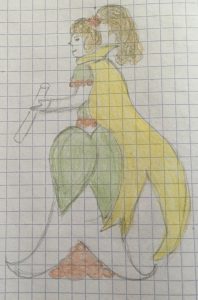 there. Maybe even for you. Now it's the time to start drawing or engage in other creative activity. What are you waiting for? The conclusion of my article?
Conclusion
Did you enjoy this article? What do you think about drawing for stress relief? Please, write your comments below. I would love to hear your opinion and your experience.
Oh, (I almost forget) what do you think about my drawings? I made them a long time ago.
---
If you are interested in learning more about how drawing can help you with stress relief, CLICK HERE to read my other articles about art.  
I love to hear from my readers, so please leave me a comment below to let me know if this article helped you find what you were looking for.
Would love to learn more about ways how to relieve stress naturally and smile more? Please subscribe to this blog, and you will receive notifications of my upcoming articles.
If you enjoyed this article, please share it on social media, because other people would love to read it too.
---
Until next time, my friend! See you soon! 🙂
Linda Mo
Founder of How To Reduce Stress Naturally