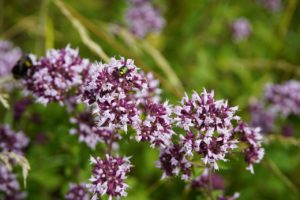 Hello, everyone! How are you all today? It is summer where I live and nice weather outside so today I decided to talk about something that is growing in my garden and can help to relax our worried minds and stressed bodies.
Firstly, I will ask you a question: Do you know what is Oregano? What is in Oregano? What is makes that plant so special that it can help us rest, relax, and sleep better after a stressful day that we all experience from time to time.
All these questions will be answered soon so no worries. Just stay here, read, and relax. 🙂
What Is Oregano
Oregano (Origanum vulgare) is a flowering plant from the mint family and is native to Western and Southwestern Eurasia and also to the Mediterranean region.
This herb is growing from 20-80 cm tall and it has purple flowers produced in erect spikes. Oregano is sometimes called wild marjoram.
What Is In Oregano
We can get nice tea and essential oil from the Oregano plant. But really what is in Oregano that makes it healthy and good for our health, relaxation, stress management, and our well-being? What is in there? Of course, almost all plants are good for us. But I am sure you want to know some specifics that make it special.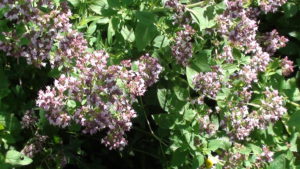 Oregano contains polyphenols which include numerous flavones.
We all know that we can make nice and relaxing tea from Oregano leaves, but there may be a better option – it is essential Oregano oil that is even more healthy than tea. Oregano essential oil primarily consists of monoterpenoids and monoterpenes that have a different concentration in different regions, origins, and is related to other factors. There are at least over 60 different compounds identified. The primary ones are carvacrol and thymol, lesser abundant compounds include caryophyllene, germacrene-D, spathulenol.
The thing is that the drying of the plant material affects both distribution of volatile compounds and quantity. Longer drying times and higher heat have a greater negative effect on those things.
Oregano oil supports a healthy immune response and it can keep you healthy all year round and even if you get ill, it will help you become healthy again. A strong immune system can make you more resistant to chronic stress. This plant-derived oil may rival antibiotics and it can prevent or treat various infections.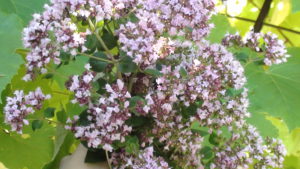 Oregano Supplements for your Use
Oregano tea is amazing and relaxing and I know that from my own experience. I planted the Oregano plant in my garden and I have drunk Oregano leaf tea and I love it. It makes me feel relaxed and it so nice to do that before going to sleep. Oregano tea with honey is exactly what I need before bed. But I heard that Oregano essential oil may be better and have more health benefits than Oregano tea and it can be great for stress relief.
This is why we decided to look at some Oregano essential oil supplements that could be great for you.
When you wanted to buy Oregano essential oil, you always need to check the amount of % Carvacrol in the Oregano oil you want to buy. Carvacrol defines the quality of Oregano oil and it is the main ingredient.
Basically, the higher the content of Carvacrol, the more effective the Oregano oil is. The usable dosage doesn't really matter in this care.
1. Zane Hellas 100% Undiluted Oregano Oil. Pure Greek Essential Oil of Oregano. Probably The Best Oregano Oil in The World
Best Place to Buy: CHECK IT OUT
Description: This is 100% undiluted, pure essential oil of Oregano. It has a minimum of 86 % carvacrol. 
You will get a certificate of chemical analysis and it comes with your order.
This Oregano oil comes from Greece. Greek Oregano is believed to be the best Oregano in the world, because Greek Oregano has the highest rates of Carvacrol. Remember to always check the milligrams of Carvacrol you take. 
Ingredients: 100% Wild Pure Greek Essential Oil of Oregano with minimum of 86 % carvacrol
Pros:
100% money-back guarantee
No chemicals and it is free of alcohol

Certificate of chemical analysis

Steam-distilled
Cons:
Some people said that their bodies had terrible reactions to this product
---
2.
HERBALEAF Oil of Oregano Immune Defense, Helps Relieve Colds, Coughs, Sore Throats- Gut Support. 1oz / 29.53 ML
Best Place to Buy: CHECK IT OUT
Description: This Oregano oil comes from one of the most trusted brands in herbal oils – HERBALEAF. It is an effective natural Oregano oil without toxins, additives, and it comes from a non-GMO source. This Oregano oil is made and packaged in the USA. It is rich in unique compounds such as Thymol and Carvacrol.
Ingredients: Oregano (Origanum vulgare) leaf and flower extract, organic extra virgin olive oil and natural (non-GMO) Vitamin E
Pros:
100% money-back guarantee
Free from GMO
No additives or toxins

Steam-distilled
Cons:
There are some complaints about this product. Some customers complained about the terrible taste.
---
3. 
Athina Vegan Organic Oregano Oil 60 Capsules. The Highest Concentration in The World one Capsule Contains Pure Greek Organic Wild Essential Oregano Oil and Provides Minimum 80mg Natural Carvacrol
Best Place to Buy: CHECK IT OUT
Description: This supplement consists of organic, vegan Oregano oil. Each capsule contains organic Oregano oil and extra virgin Olive oil from Greece. It has a minimum of 80 % natural Carvacrol and each capsule 80 mg of Carvacrol. 
This Oregano oil supplement has been the best seller in Germany for the past 10 years.
Ingredients: Organic vegan Oregano oil,  Olive oil extra virgin
100% money-back guarantee (one year)
High-quality standards
Free from Alcohol, Salt, Sugar, Yeast, Starch, Gluten, Wheat, Soy, Corn, Egg, Milk, and Shellfish
Free from GMO
Doesn't contain chemicals, additives, preservatives
Cons:
One customer complained that the capsules are too big and they have a bad aftertaste
---
Final Thoughts
Today we looked at what is in Oregano and what kind of health benefits Oregano may provide for you. We know that Oregano helps you manage stress and relax. There are also some great Oregano supplements – an essential oil that may make the difference in your life that you so desperately need.
Did you hear before about Oregano and Oregano essential oil? Did you use them before? Do you want to try Oregano tea or its essential oil? How do you think this plant can help you with stress relief, relaxation, and better sleep? What kind of questions you have about this plant, supplements, or something else related to this article?
Let me know below! Please, don't hesitate to ask about anything that interests you.
Thanks!
Until next time!
Linda Mo
Founder and Owner of How To Reduce Stress Naturally