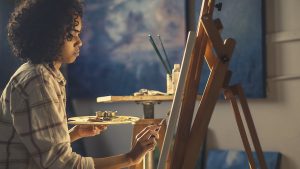 Today I introduce my list of tools for creative activity. Do I hear you ask why? Art therapy and stress relief?
Art therapy is a good way to reduce stress. If you don't believe me, you can read scientific studies about this topic.
It is amazing to know that only 45-minute art-making session reduces cortisol levels of participants.
In my opinion, it's true indeed, and I can confirm it. Making art like drawing and painting helped me a lot to reduce stress and anxiety, feel more calm and relaxed. From my experience, this is one of the best ways to relieve stress and be in the present moment. It is also enjoyable.
Art Therapy and Stress Relief. Studies
I published two articles a while ago about art therapy and stress relief. In one I explored 10 ways to de-stress by being creative, but the other one is about how to relieve stress by drawing.
One of the recent studies shows that art reduces stress. After 45-minute art-making session, people experience a reduction of cortisol levels. Cortisol is known as a stress hormone.
About 75 % of participants had lower stress levels after art making than before. But art-making didn't work for everyone. The cortisol levels of 25 % of participants remained the same or elevated. It shows that not all stress relief tips or techniques work for everybody.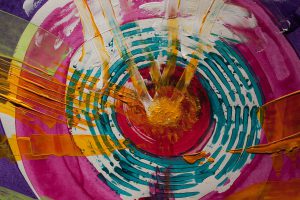 Warson and Lorance state that art is life-enhancing. They researched cortisol and roles of nervous, immune and endocrine systems in stress and how creative activity (art) can help with stress reduction. An interesting fact is that coloring the mandala design not only help with stress and anxiety relief but also increase immunity. 
Another study made by D. Visnola and her collages explored if art therapy has any effect on the stress. It shows that the levels of stress indicator (cortisol) decreased significantly after art therapy.
Now you see that art therapy has an effect on stress, and it tremendously can help you. The question is why don't use it for yourself. This is the reason why I decided to talk about art therapy for stress relief and to create this list of tools for creative activities. 
Tools For Creative Activities
Here are some tools from my choosing, and I hope you will like them too. They will help you with your creative endeavors and stress relief. You will see for yourself. Let's begin! 
Tools For Drawing And
 Coloring
Tools For Painting
Acrylic Paints
These kind of paints are my favorite ones, and I use them for my paintings. When I paint, I get lost in colors and shapes, I get lost in myself and forget all about stress, worry, and anxiety. It is an amazing feeling, and I would like you to enjoy it too.
Canvas
The best way to paint is on canvas, and I choose some examples for you.
Paintbrushes
Final Thoughts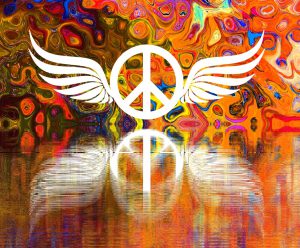 Creative activities are a good way to deal with stress, and they give so much more.
Isn't it amazing to feel and explore your creative powers? You all are gods in the making. 
How many beautiful things can you create? You are creators of your lives, your worlds.
You can create your life as amazing as you want and be free of stress and worry. We all can.
You desire peace and less stress. Right?
You can make it happen even if it takes time. Explore your creativity! Please, just do it for yourself and for us all!
I want to read your great comments, suggestions, and experiences!
---
If you are looking for tools for painting, CLICK HERE.
I would like to hear from you, so please leave me a comment below to let me know if this article helped you.
If you want to learn how to be less stressed and more peaceful, subscribe to my blog, and you will receive notifications of the upcoming articles.
Did you enjoy this article? Please let your friends know about it by share this post on social media.
---
Enjoy your creativity!
Until next time, dear reader! 🙂
Linda Mo
Founder of How To Reduce Stress Naturally