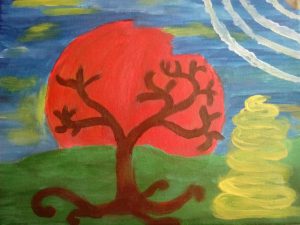 Hi, everyone! How are you today?
This is a new article about art and stress relief as promised. Does art reduce stress? What is your opinion?
People struggle with stress every day, and they may never think that creative activities can be the answer to their problem. On this article, I will explain why art and creative activities can relieve stress and brighten your day.
In the last article, I wrote that creating art such as drawing is a great way to relieve stress. Now we will explore this topic further. 
Do you want to know what kind of creative activities you can do to reduce stress? This article will show you how you can relieve stress by creativity. If you want to know more about creativity and stress relief, you need to read my article How Creativity Reduces Stress.
Okay. Are you ready? Let's dive into the world of art that you can create! Let's relieve stress by being creative! 🙂
Does Art Reduce Stress? 
Many studies show that indeed art reduces stress and anxiety, and here you can see some of them.
One study shows that 45 minutes of art making lowers cortisol levels (stress hormone) of people and is published in Art Therapy: Journal of the American Art Therapy Association.
A research made by Cloe Bell and Steven Robbins shows the mere act of creating art can reduce negative mood and anxiety which sometimes are symptoms of stress. 
An interesting study was conducted by researchers Renee van der Vennet and Susan Serice who found that coloring helps to reduce anxiety. This research shows that not all people are comfortable with their artistic abilities, and for them coloring pictures such as mandalas is better than coloring on a plaid design or drawing (coloring on a blank paper). It's because people don't know what to draw, and that can be stressful. 
What Is The Art Therapy?
This is a therapy that encourages self-expression and creativity as the way to reduce stress and anxiety.
No need to worry about the final product, because the most important thing is the creative process that can be healing for you, let understand yourself better and explore your inner creativity.
How Art Reduces Stress? 
So how can art reduce stress? Studies show that art therapy can help you to relieve stress and anxiety. In my opinion, creativity is one of the best ways to deal with stress, lift your mood and be happier. Of course, you want to know the benefits of art. So here are some ways that creating art can reduce stress. Let's see!
Being in the present moment. Making art is a great way to be in the present moment and don't think about anything else that is worrying or stressful for you. When I engage in creative activities, I feel so alive and forget about my worries. That is one of the best ways to meditate by doing something you enjoy.
Self-care. You should find time for yourself from time to time, and a hobby would help you to express yourself and let go of feelings and emotions.
Distraction. Creative activity can take your mind off your worries and things that cause your stress. I am sure after this activity you would feel refreshed and ready for new adventures.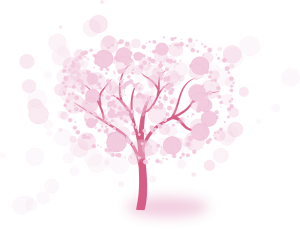 You should use the benefits of art to express yourself and your creative side. Sadly, people forget and don't use their natural creativity, and in that way, they lose something from themselves.
They more easily get stressed. I don't know how in touch with your creative powers you are, but it doesn't matter. You can change this today by connecting with your inner creativity.
10 Ways To De-Stress By Being Creative
Here are ten easy art therapy techniques that can help you with stress relief. Don't worry if you think that you aren't good at art because it isn't necessary. Remember you only need to find what works for you.
Are you ready? I promise you will feel better for sure, and you also can use these methods to open the doors to your imagination and creativity. 
1. Create A Collage
You can use pieces of your paintings, drawings, other materials to create a collage. I am sure it can be a lot of fun and exciting to create something new. When you feel that way, it isn't possible to be stressed, and this method can help you to explore your creativity. Just try!
2. Design A Card For Somebody You love
I like to design and create a card for someone I love, and it's much more fun than buying a card from the store. When I focus on the task at hand like creating a beautiful card for my loved ones, I can't feel stress, anxiety, or negative emotions.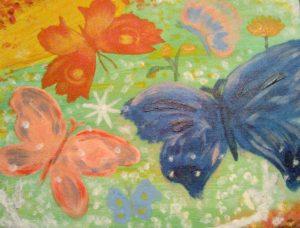 A gift for my mom
3. Create A Forgiveness Box
We all know how important is forgiveness. Your ability to forgive others and yourself makes you happier. I believe that a lack of forgiveness can make stress worse. So I think it's a great idea to make a forgiveness box.
You can decorate how you want, and it may become your small art project. This can help you to let go of emotions and understand how important is love, and in that way, you would deal with stress easier.

An important thing to remember
4. Watercolor Your Bodily State
When I read about this method, it seemed interesting and unique. Maybe it's because I never did this kind of thing or even know about it. It is amazing to learn something new every day then your life never will be boring.
Just look around, and you will see so many wonders. What kind of stress can it be if you take the time to see beauty everywhere you go?
In my opinion, art therapy is all about that and connecting with yourself and exploring your creativity. Of course, there is no place for stress if you are aware of your abilities and skills, and this technique reminds me of something like meditation, trance, and deep self-understanding.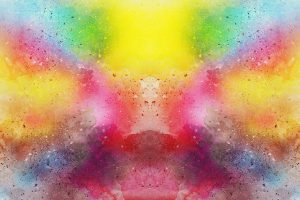 Use more colors
Close your eyes, my dear reader, and visualize your body. Breathe deeply in and out. Imagine each breath as a particular color. How do you feel? What kind of colors comes to your mind? Okay, take a large sheet of paper, draw an outline of your body, and use watercolors to paint it.
What do these colors mean to you? I believe this can be your best self-portrait showing your true self. When you focus on breathing, you are relaxing, so in this way, you will let go of stress. 
5. Creating Mandalas
Creating a mandala is an excellent tool for art therapy, and it may give you more peace, clarity, and balance. Drawing your own mandalas can be healing and inspirational, and they are used in meditations. The mandala that you would create is a representation of the connection between your inner and outer world.

Draw a mandala
If you want to know how you can create your mandala, read this article or watch the video below.
Youtube video made by user ExpressingtheSelf
6. Adult Coloring Books
Coloring books for adults become more and more popular providing relaxation and stress reduction. Coloring has similar benefits to meditation. Interestingly, many sources say that coloring isn't art therapy.
But I add this technique anyway because it works as art therapy. I believe this is a good way to reduce stress and anxiety, calm down and have fun. Sometimes we all want to remember our childhood. 
I think everyone needs to try and it may become your new hobby.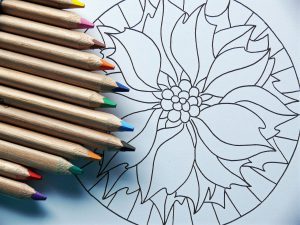 Coloring page
7. Create A Zentangle Drawing
This drawing method was invented by Maria Thomas and Rick Roberts. Zentangle is meant to make drawing meditative, and everyone could do it. Interesting is that you need to be taught by Zentangle Teacher if you want to learn this method properly.
Do you want to try Zentangle drawing unofficially? 🙂 Why wouldn't you? Okay. 
Cut a piece of paper into a 3.5" square piece and start drawing. Firstly, you need to draw a border around the edge, and, secondly, you can draw curved lines with a pencil.
Then you can take a pen and draw a series of patterns and shapes. Do you understand? Truly, it isn't easy to explain, so you can check the videos below and see the explanation. 
Youtube video made by user the ART gEEK
Even if traditional Zentangles are black and white, it can be good to experiment with different colors, and I think that will make this process more enjoyable. The Zentangle drawing, as I understood, is a process that is like a meditation. An interesting fact is that you don't need to erase anything, and in fact, it's against the rules.
I am planning to write an article about Zentangle in the future because I think it's an interesting method to draw and relieve the stress you are feeling.

A Zentangle drawing
Youtube video made by user Dilip Patel
8. Write A Found Poem
You don't need to be a poet to write a poem. How? Take material from magazines, newspapers, or letters. Cut out words that you like or seem interesting, and then make a collage of them. 
9. Drawing 
For many people, drawing is a good way to relieve stress. How many of you were drawing on the pages of your school notebook? Some time ago I saw my mom draw flowers when she was nervous while speaking via phone with somebody. Maybe you are still drawing from time to time when you are anxious or stressed. Are you?
You can keep a sketchbook that would become your diary, and you could draw everything that is stressing you out or something you feel. Drawing something can have the same healing effect as telling your problems to a friend.
---
If you want to know more about how drawing can help you to reduce stress, you can read my article about drawing and stress relief. 
---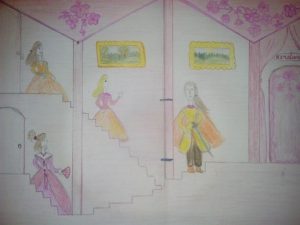 Drawing that I made a long time ago
10. My Favorite One – Just Paint
This method is my favorite one because I always feel peace and joy before I even touch the canvas. I prefer acrylic colors, but maybe you want to make an oil painting or something.
So how can you do this? Don't worry it's not difficult! Take canvas, brushes, and paints, and just start (At least, I did it). 🙂 I didn't even use any introduction, and for me, it was the best way. But you can watch the introduction video below:
Youtube video made by Ester Petu
Don't start to think too much and just enjoy the process! Let yourself dream, imagine and play with colors! You can paint layer after layer and experiment with colors and patterns. Please, don't think that you are doing something wrong! Art therapy is not- judgmental, so why are you want to judge yourself?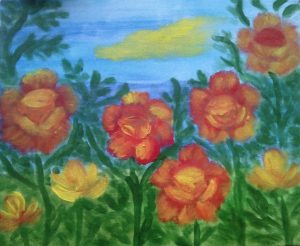 Another gift for my loved ones
Do you wonder how this can help you to reduce stress and anxiety? I don't know about you because everyone is so different and unique, and I can't say for sure that painting can help you. You need to experience it for yourself, but maybe other art therapy methods are better for you.
Painting for me is like magic, and I am not an artist. Sometimes I don't even think that I have a talent, and I don't want to paint realistic images. When I paint, I feel peace and joy, stress, worry, and anxiety are like distant memories from another world. For me, this is the best art therapy method that helps me to relieve stress and negative emotions and thoughts. 
Do you want to try? As you see below, my first acrylic painting isn't perfect, but I want it to stay the way it is. 🙂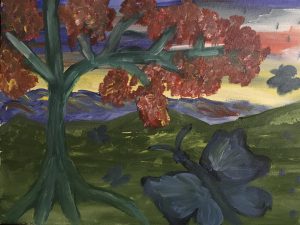 My first acrylic painting
Conclusion
After reading this article are you still asking the question, does art reduce stress? Of course, now you know and fully understand, that art is an amazing way to relieve stress. 
I hope you enjoyed this article, and you would use these art therapy methods to reduce stress. What do you think about these art therapy techniques? They may not all work for you, but I am sure that one or more of these techniques can help you to relieve stress.
---
I love to hear from my readers, so please leave me a comment below to let me know if this article helped you.
Need tools for creative activities, CLICK HERE to get more information.
If you enjoyed this article, let your friends know by sharing it on social media.
Want to know more ways to relieve stress and feel happier, subscribe to this blog to receive notifications of my upcoming articles. 
---
Relieve your stress by being creative!
Until next time
Linda Mo
Founder of How To Reduce Stress Naturally