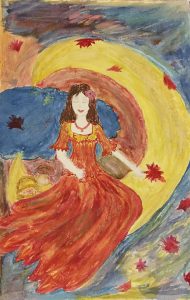 Hi, everyone! My dear reader, how are you feeling? Is stress attacking you and destroying your peace? Do you want to change it today? Right now?  Of course, you do. So I introduce to you a great method on how to relieve stress. Do you ever consider that drawing or painting can be a good way to reduce stress naturally and with ease? 
You can relieve stress by drawing. It's time to remember your imagination and invoke your creativity. Don't let your creative powers sleep for so long!
When you are stressed, your creativity isn't seen and experienced. You need to let yourself unleash and use your creativity, and then definitely you would feel less stressed. If you engage in a creative activity, you focus on drawing or writing, and your creative side takes over.




Drawing For Stress Relief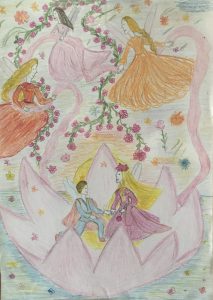 I loved to draw from a very young age, and basically, every kid likes to draw and play with colors. How about you?
Often people grow up, and they forget how to open the doors to imagination. They forget about themselves, and adults express themselves less than children.
Tension, anxiety, and worry keep boiling inside, and one day the loved ones suffer from released emotions of their family members.
When I was very young, my mom told me that drawing is a good way to reduce stress, relieve tension and let go of my emotions. I understood the benefits of drawing, and I enjoyed it a lot. The most important thing is that drawing helped me to relieve the anxiety and stress I felt at that time.
Can drawing help with stress relief? Really? How can you do this? I will tell you what helped me and many others out there. This is my way that can become yours. Keep reading, and you will find out!
Relieve Stress By Drawing
I read many articles about how to relieve stress by drawing, and now I represent to you five great ways to do it. Some of these ways I am using myself. I am sure that at least, one of them will help you and be useful to relieve tension.
1. Draw something that comforts and inspires you
For example, you can draw a smiley face, nature, imaginary things, and creatures. You can draw whatever you like, and it's important how that makes you feel. I loved to draw fairies, flowers, angels, nature spirits as you can see in the image above.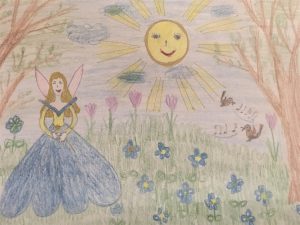 2. Just draw and have fun
Find a great spot where nobody will disturb you and you can be by yourself. Play with colors, shapes, and patterns, and enjoy the process. So what kind of stress can you feel, when you are connected to yourself and being at the present moment?
Often you are stressed because you think about the past or future and not being in the present. You only can change the present, and by doing so, you create your future. So why worry about it? Why let stress control your life?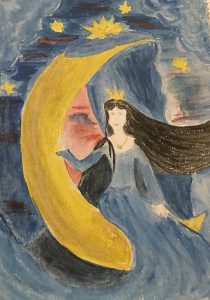 3. Create a gift for someone
You can draw and create a beautiful gift for somebody you love. When you concentrate on making something for your loved ones, you can't feel stressed. Who doesn't want to receive a homemade card? I made cards for Christmas and Easter or a booklet full of my drawings as a gift for my mom.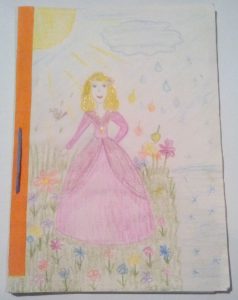 4. Draw whatever is stressing you out
When you are stressed, you can draw your stressors that can be both literal or metaphorical representations of them. Maybe you can just draw everything that is stressing you out on the paper using colors, lines, and shapes. If you choose this method, remember that you need to throw away or destroy your masterpiece.
This method can be especially powerful if you can burn your drawing. In fact, my mom recommended it, but I never tried. I think that this can be very therapeutic because you are destroying things that represent your stress. I am sure you can feel more peaceful and free after drawing things that cause you stress.
5. 

Release your emotions by drawing them
You need to focus on your emotions and draw them onto paper without thinking. Just let them all out! This method can help you to release the emotions that you are holding inside. Do you want your mind to become clearer? Try and see for yourself how it works. 
Do You Have a Talent?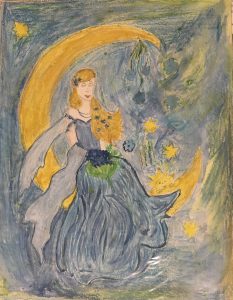 I am absolutely sure that we all have some kind of talent. Once upon a time, I read somewhere, that each person has about seven different talents. Isn't it great? We all are talented. 
People usually say that they can't draw because they don't have talent. Why did people draw when they were kids? So at that time, they had a talent, but when they became adults, it was lost. It is a little bit strange. Right?
No Need to Have a Talent
You all have a talent and even if you think that you don't have it. In fact, it doesn't matter. Drawing for stress relief isn't about that, and it can help you to reduce stress using your creativity.
A study shows that even if you are not good at drawing or other creative activities, making art reduces stress. You don't need to be an artist to draw, and this activity can help you in many ways.
In fact, I don't think that I have a talent. But it doesn't matter because I enjoy what I do. You should too. 
Painting For Stress Relief
So why am I talking about painting? Are you confused? I know that painting is a little bit different than drawing, but I need to write about it because painting is one of my favorite creative activities.  
When I start to paint, I forget about negative thoughts, emotions, anxiety, and, of course, stress. I feel at peace and complete. For me, painting is a meditation, because when I paint, I have only the present.  
At that time, I am a creator of new worlds which are born in my mind. I feel the power of my creativity and imagination. What kind of stress can it be if you feel so alive and powerful? It works like magic. At least, for me. 
I like to use canvas and acrylic colors to paint.  Do you want to try?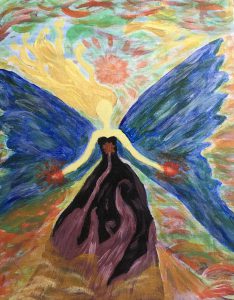 My latest painting
---
If you would love to know how painting helped me to relieve stress, CLICK HERE for more information.
---
Conclusion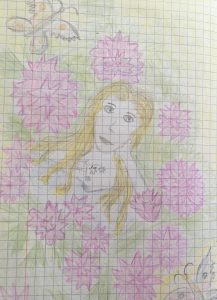 Relieving stress by drawing is a good way to let go of tension, worry, and anxiety and unleash your creative abilities. I encourage you to try it. There is nothing to lose, only gain. I would love you to experience more harmony in your life.
I hope you enjoyed this article as much as me. 🙂
All images are pictures of my drawings which I made some time ago. Did you like them?
Please, tell me about yourself! Do you enjoy drawing? Is it helping to relieve stress? If not, do you want to try? I would like to read your comments, suggestions, and your stories about your experience. 
---
If you are interested in learning more about drawing, CLICK HERE to get more information. 
I like to hear from you, so please leave me a comment below to let me know if this article helped you.
If you need more stress relief tips, please subscribe to my blog, and you will receive notifications of the upcoming articles.
If you enjoyed this article, please share it on social media to let your friends know this information.
---
Draw away your stress, dear reader, and be happy!
Until next time!
Linda Mo
Founder of How To Reduce Stress Naturally