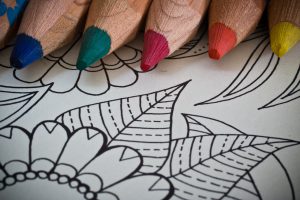 Hi, everyone! How are you? Today's topic is adult coloring books. What are the benefits of coloring? What is the best adult coloring book? Can coloring help you to relieve stress?
I think we all know how popular are adult color books right now, sometimes it seems, that people are obsessed with them.
This trend is still on the rise, and for some time people find joy in coloring. It's nothing bad, in fact, it is good because coloring has so many benefits and that can help you to reduce stress. 
The Benefits Of Adult Coloring Books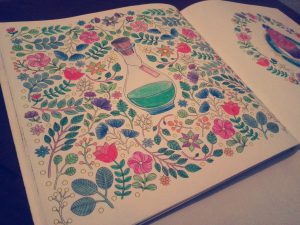 What are the benefits of coloring? Many. But I will mostly talk about the benefits which are related to stress and anxiety relief.
1. Coloring for adults helps de-stress
Carl Jung was one of the first who studied the benefits of coloring pages. He found out that mandala coloring helped his patients with stress relief, and they became calmer.
2. It can take you back to childhood 
Do you know, that when you color, you are transported back to your childhood? Who doesn't want to relive happy memories of stress-free days? It's relaxing, and you will be free of anxiety and worry for a while. How about you? Do you remember your childhood days when you colored?
3. Coloring is like a meditation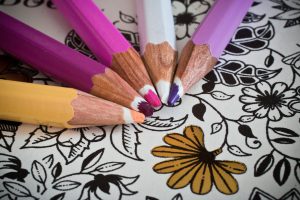 When you are stressed, it's not easy to let go of your thoughts and meditate.
But there are other ways how you can achieve a meditative state.
Coloring helps to induce a meditative state. When you color mandalas or other patterns, you are focused on the present moment. At that moment you are meditating, and maybe you don't even know it. 
4. Reduce anxiety
5. Spark creativity
Coloring books for adults help people to ignite their creativity. I am sure you know by now that creativity reduces stress.
---
Adult Coloring Books
1. Mandala For A Stress Relieving Experience By 

Pegasus Coloring Book
Description: Mandalas have the power to balance energies and promote relaxation. This book has 60 mandalas to color with simple or very intricate designs. It has a white background for every design and one-sided pages.
Pros:
+ #1 Best Seller in Picture Framing on Amazon
+ One-sided pages and after coloring you can cut off the page if you want.
+ You can use pencils, pens, gel-pens
+ It has a beautiful design and a good price
+/- Opposite opinions about this book. Many people are satisfied and give five stars. But some people complain about quality: "the paper quality is poor", "terrible quality images", "drawings are very bad". The question is why people buy it if the quality is bad, so I think that this is just some people's opinion about it. Nothing more and nothing less. It is still a great adult coloring book.
Cons:
– You can't use a felt tip or alcohol-based pen because it would bleed into other sections
– The paper quality isn't great, and it's quite thin.
---
2. 
Magical Jungle By Johanna Basford
Description: This is a great coloring book made by Johanna Basford, who is called ink evangelist and queen of coloring.
You can explore by coloring an exotic rainforest with small and large creatures.
There are ancient relics to be found along the way, and each one leads to the mystical treasure hidden that only the bravest and most inquisitive colorers will discover.
It has crisp ivory paper, smooth, untextured pages that allow you to use colored pencils or pens. This book had 80 pages.
Pros:
+ #1 Best Seller In Graphic Arts in Illustration on Amazon
+ Great paper quality
+ You can use pencils, pens and even watercolors.
Cons:
– Patterns may seem to be less intricate than in other books by Johanna Basford.
– The drawings have a lot of gaps, where you could add to the artwork, but people were annoyed because they couldn't draw.
---
3. Secret Garden By Johanna Basford
Description: Drawings rooted in the fauna and flora that surround Johanna Basford's home in Scotland. This book has beautifully detailed illustrations that you can color. This book consists of 96 pages. 
Pros:
#1 on the New York Times Best Sellers list
+ Great quality paper and beautiful design.
+ You can use markers to color
Cons:
– People complain that it's boring, and need more interesting pictures.
– Some people don't like that the background isn't white but a "strange yellowish color".
– Drawings are on either side of the page.
---
4. 
Millie Marotta's Tropical Wonderland
Description: This is a new book by Millie Marotta who is the author of the Sunday Times bestseller Animal Kingdom.
You can enjoy coloring exotic creatures and plants. This author's style of illustration encourages you to explore the rainforest and add your colors and lines to these drawings. You can be sure that this book is great if you want to let your creativity shine and relax. 
This book has 96 pages, and the illustrations are printed on high-quality white paper.
Pros:
+ It has a great price, beautiful design, and good quality paper.
+ Lovely detailed pictures
Cons:
– Designs are on either side of the page.
– For some people, it's a little bit difficult to color, because it has small details.
---
What Is The Best Adult Coloring Book?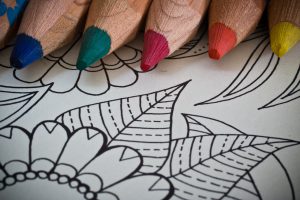 I am sure that everyone has their best adult coloring book, and even after this review, some people wouldn't agree with my opinion about these books. 
I never bought the adult coloring book, so I can't be sure how it is in real life. Of course, once in a while, I have printed some free coloring pages, for example, mandalas.
It is a good feeling to color images, but I prefer drawing or painting. For me, it is a little bit more joy and relaxation. But this doesn't mean that I don't enjoy coloring or don't want to buy a coloring book. 
In my opinion, the best adult coloring book is Mandala For A Stress Relieving Experience By Pegasus Coloring Book. Why? Firstly, it's because coloring mandalas is a great way to reduce stress as some studies suggest. Mandala coloring is a better way to relieve stress than coloring other patterns. Secondly, I like, that this book has one-sided pages. 
I also think that both Johanna Basford books are good and you can enjoy coloring their beautiful patterns.
Do you know what is interesting about coloring besides the obvious? Some people think that coloring is a little bit addictive.
Conclusion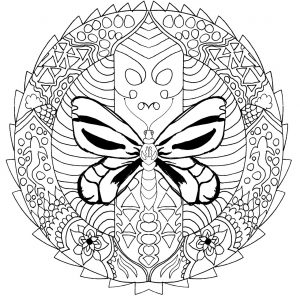 Adult coloring books are great gifts that's for sure, and especially if you are worried, anxious, or stressed.
So what is the best adult coloring book for you? I would love to hear your opinion. 
I hope you liked this review and information about adult coloring books, and you will share it. 🙂 
It was my pleasure to write about adult coloring books, and I am sure you will return here to read more of my articles.
Thank you for reading!
---
If you are looking for the best adult coloring book, you are at the right place. CLICK HERE to learn more.
I love to hear from you, so please leave me a comment below to let me know if this article helped you.
If you want to know more about how to reduce stress naturally, please subscribe to receive notifications of my upcoming articles. 
If this article was helpful to you, let your friends know and share it on social media.
---
Until next time!
Linda Mo
Founder of How To Reduce Stress Naturally