Today I will talk about a topic many of you know and are interested in it. Maybe usually you don't think that this subject is somehow related to stress relief. But we need to look at the bigger picture, and I believe that health is essential if you want to manage stress effectively. 
So what am I going to talk about in the post? This article is about juicing and stress, and we need to understand how can juicing help with stress relief? 
Let's begin and explore! Health, stress, and juicing – how they can be connected?
Juicing and Stress
1. What Is Juicing and Is It Good For Your Health? 
Firstly, we need to talk about juicing. What is it? Juicing is a process, where natural liquids that are full of vitamins and minerals are extracted from fruits and vegetables. 
Many people think that juicing is good for their health, and I am sure that it's very beneficial for your body. Just don't forget to eat fresh fruits and vegetables and not make juice out of everything. 🙂 You also need fiber. 




 How Can Juicing Help With Stress Relief?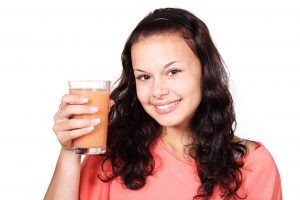 Some time ago I wrote the article Is Stress The Silent Killer, and I hope you know that many illnesses are directly related to stress. There is a lot of research on this topic, and remember that stress-free life and health go hand in hand. I believe that juicing plays an essential role in it. Today we will explore more about juicing as a stress reliever.
Juicing can become your body's natural way to fight back when stress hits you like a lightning from the seemingly clear sky. You can't be sure when the stress strikes. But you need to be prepared. 
You can control the stress hormone cortisol by juicing, eating healthy, and taking supplements. Did you know that stress directly correlates to your diet? Juicing is one of the best ways to deal with stress naturally because this can help you to be healthy.
Health is important if you want to live without stress or at least, be less stressed and happier. In my opinion, drinking homemade juice is much better than taking supplements or medication that can cause addiction, and juicing can become a great stress relief tip and promote a healthy lifestyle. 
Juicing For Stress Relief – Three Elements That You Need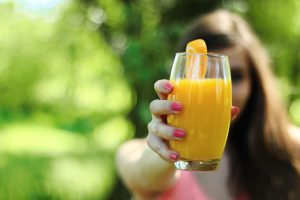 If you use the juice for stress relief, your body receives the vitamins and minerals needed to help combat stress, and it can also improve your well-being. Nutrients help you to minimize stress responses and heal your body from stress-caused damage.
There are people, who are sure that juicing helped them for stress relief. Why wouldn't you want to try? 
Three elements – Magnesium, B vitamins, and Vitamin C – are essential for stress management, and you can receive them with juicing. 
Magnesium has a big role in your emotional and mental conditions, and this mineral can suppress the release of cortisol. Do you know what happens when you are stressed?
Your body uses up your magnesium stores, and that can lead to a magnesium deficiency. If you eat green leafy vegetables, carrots, tomatoes, and citrus fruits, you can get enough magnesium.
B Vitamins. All B Vitamins are good for stress management, depression, and anxiety. 
Vitamin C can help you to reduce stress and anxiety.
Video from youtube user Be TIL
Conclusion
I always believed that everything is connected, and health, stress, and juicing is great and easily understandable example of it. 
If you want to be less stressed, you should consider juicing, and in that way, you can get the minerals and vitamins you need for stress management. 
I would be glad if you drop a comment below. 
---
I would love to hear from you about your experience with juicing and how it helps you with stress, so please leave me a comment below to let me know if this article helped you.
If you want to reduce stress the healthy way, please subscribe to my blog, and you will receive notifications of the upcoming articles about stress relief.
If this article helped you, please share it on social media to let your friends know about it.
---
Thanks!
Until next time, my dear reader! 🙂
Linda Mo
The Founder of How To Reduce Stress Naturally